NASHVILLE — Citing a critical need for additional truck drivers to transport goods and products, the Tennessee Board of Regents, Gov. Bill Lee and state lawmakers have teamed up to promote driver-training programs at the state's colleges of applied technology.
"In Tennessee, we recognize that the trucking industry is a key part of our state's economic growth and success," Lee said in a video that's part of the outreach effort. "And we've worked hard to support the trucking industry in recent years to ensure that companies and Tennesseans have the resources needed to thrive by reducing burdensome regulations on the industry, increasing training opportunities, promoting collaboration between our state's (colleges) and the Department of Safety and businesses."
The governor said acting this year in partnership with the General Assembly, the state has launched the "Trucking Tennessee Campaign" to strengthen and increase the state's trucking workforce to continue support for what he called an important industry.
(READ MORE: These trucking and logistics companies have Chattanooga roots)
"(Colleges) across our state are now making it easier than ever for drivers to become certified," Lee said in the spot, citing the Tennessee Promise Scholarship Program and Tennessee Reconnect, which provides last-dollar scholarships to adults attending community colleges.
Photo Gallery
Chattanooga State's commercial truck driving school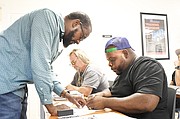 The governor also said drivers can be certified at "little or no cost" in as little as six weeks.
"If you're looking to skill up and start a career in trucking, visit truckingtn.com today," the governor said in the video.
House Transportation Committee Vice Chair Greg Vital, R-Harrison, said by phone Monday that Tennessee and the nation have real challenges in terms of transporting materials and supplies.
"Logistics have become a real important part of Chattanooga's economy," Vital said, citing a number of Chattanooga-based trucking companies.
Meanwhile, he said, the system of applied technology colleges has a good track record in producing certificates and degrees.
(READ MORE: Trucking and freight industries navigate turbulent times as historic highs give way to painful lows)
"There's a real opportunity there to increase the numbers in Tennessee" and transportation logistics is an "important part" of that, Vital said.
Vital said state lawmakers have made commitments to fast-track commercial driver's licenses for those who have had prior transportation and logistics experience in the military, thus enabling them to reduce the time needed to prepare to take the exam.
"I can see a real opportunity in Southeast Tennessee because of the number of firms," Vital said. "The interesting thing is that salaries for long haul truck drivers are in the $80,00 to $100,000 range."
Truck drivers can have lots of flexibility, Vital added.
"There's a real career path there," he said. "Lots of things move by road."
Bo Drake, interim executive vice president for Chattanooga State's college of applied technology, said by phone Monday the campus's day and evening classes for commercial driver's licenses are consistently full. The program also has a 100% placement rate, he said.
"I think it's very positive what the state is doing," Drake said. "And I think it will just continue to help create awareness of the opportunities that are available for these types of careers. And I think that the broader audience isn't aware that driving a truck can lead to family-sustaining wages. And so I hope that increase in messaging may help expand the interest into different groups within the community to explore a career in truck driving."
Drake said Chattanooga State is now in the design phase of a planned new transportation center, which will enable the campus to double its capacity. The building is not yet under construction, and it's estimated to take at least a year and a half before it comes online. Drake said it's part of the initiative but plans were in motion prior to the campaign rollout.
He said he thinks the campaign has the potential to be very successful in attracting people to the profession.
(READ MORE: How women are taking the wheel and making inroads into the traditionally male-dominated trucking and logistics industries)
"It's a modernized campaign that helps paint the profession professionally and in a new light that will be more attractive to a wider audience than it has in the past," Drake said.
Efforts to reach Tennessee Trucking Association officials were unsuccessful. At the national level, the American Trucking Association joined with the International Foodservice Distributors Association to include a "Safe Driver Apprenticeship Pilot Program" in the bipartisan infrastructure law. They say it's intended to help alleviate a truck driver workforce shortage caused in part by an aging workforce.
In a recent appearance on NewsNation, Owner Operator Independent Drivers Association President Todd Spencer spoke on why there have been recent reports of a truck driver surplus just months after the American Trucking Association said there was a shortage of 61,000 drivers.
"When you talk about driver shortage, that's one of those mythical topics that we've heard about for three decades," Spencer told NewsNation. "It's perpetuated by companies whose real core issue is that there are plenty of drivers, but that they just can't keep them."
Vital said the COVID-19 pandemic had an effect on drivers and that there's a generational shift.
(READ MORE: Trucking giant Yellow Corp. declares bankruptcy after years of financial struggles)
"I think there's an aging of our driver population going on, just like we've seen in many other industries," Vital said. "Some of these positions, you can't put them in the truck the next day."
Vital said training can take six to 18 months.
Also contributing to this report were reporters Shannon Coan and Dave Flessner.
Contact Andy Sher at [email protected] or 615-285-9480.