An internet search will turn up lots of advice on choosing flowers for a dinner party. What if you could pick them yourself?
No, not from a flower shop, but from a flower farm, directly from the field where they grow.
Once you'd assembled your bouquet, you'd sit down for a light meal: some meats and cheeses from a charcuterie board, maybe blueberry lavender tea, a cupcake to end on a sweet note. The setting sun would glint through trees in the distance. A guitarist would strum chords in the background.
That scenario is possible over the next three weekends at Flat Top Mountain Farm, an agritainment destination in Soddy-Daisy. After a trial run last year that proved "surprisingly popular," co-owner Tera Byard says the farm will offer a Night Out in the Flowers on three dates this year with two seatings each night.
Photo Gallery
Chattanooga-area flower farms add dining options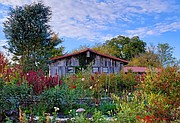 (READ MORE: Generation farmers bring new look, life to Flat Top Mountain Farm)
At The Barn at High Point Farms, a flower farm and wedding venue in Flintstone, Georgia, a cash bar is available for Pick & Sip gatherings, which run select Friday nights through Sept. 22.
"Visitors can meander the gardens," says co-owner Margie Gardner, and can pick and build their own bouquets for $30 per jar.
"We often assist, demonstrate and identify (blooms) for our guests, but they truly enjoy the whole hands-on experience," she says.
On Sept. 15, there's a chance to add a meal among the flowers at the Dahlia Dinner, "the highlight of the year," says Gardner, describing it as "a unique combination of a farm history tour (past and present), a floral workshop and a locally sourced farm-to-table dinner."
Tips from a pro
As owner of Southern Pearl Picnics, Mecca Rogers has perfected the art of a curated picnic. One of her favorite bookings was for a Lookout Valley resident who had completed a backyard garden for his wife and asked Rogers to set up a picnic to christen the space. "Sweetest date night ever," she says. Most picnics are more casual. These are Rogers best tips for a do-it-yourself meal in the great outdoors.
— Location, location, location. With so many beautiful spots in our fair city, its not hard to find a place to lay your picnic blanket. Choose your spot with memory making in mind. Whether its a riverbank or an overlook, the scenery sets the mood for your picnic experience.
— A cozy blanket. Your one luxury for the most unforgettable picnic experience should be your blanket. We love to kick off our shoes and relax on the softest fabrics we can find. Keep in mind it will get dirty and you can always layer, with the softest on top.
— All your yummy favorites. Your perfect picnic doesnt have to break the bank. Whether its PB&J or a charcuterie board, pack what YOU love. Feel free to "cheat" and grab takeout. Dont stress yourself. A picnic is a state of mind. Its all about the slowdown and enjoying your time with your people.
Like the farm's weekday morning you-pick hours, the Pick & Sip events are open to walk-ups. Gardner says these evening walkabouts around the farm are often a girls night out, mother/daughter time or out-of-the-box date night.
"The farm is just a beautiful place to come visit," she says. "We sit at the foot of Lookout Mountain, and the highest point of it (High Point) oversees our farm, so it is very picturesque."
For Nights Out at Flat Top Mountain Farm, dining tables are set up in grassy fields adjacent to the flower rows, where zinnias, cosmoses, pincushions and forget-me-nots will be blooming for the next few weeks, perhaps with — fingers crossed — the last of the late-season sunflowers, Byard says.
The farm regularly offers you-pick flowers for visitors, and there's a $12 walk-up option on the Night Out dates. But anyone who wants to include a light meal before they leave the farm can reserve a table for up to four people for $60 with food and beverages provided by local vendors. Larger tables, seating six to 12 for $90, are already sold out all three nights.
For swankier ambiance for couples, Southern Pearl Picnics will set up a charcuterie board and other comforts for $116. The more refined experience has the option of a prepared table or the signature pallet picnic, outfitted with everything from cloth napkins to plush pillows.
"We pretty it up with flowers from the farm, and then it also includes your bucket to pick your own flowers," says Southern Pearl owner Mecca Rogers.
Byard says the outings are perfect for couples on a date night, groups celebrating a birthday, even surprise marriage proposals. Sometimes, it's "just people looking to get out and enjoy just being outside. So many people tell us how peaceful it is and how therapeutic it is."
Count Rogers among them.
"People want that experience," she says. "The flowers are blooming. Everything is set up under string lights. You breathe in the mountain air. You can look around and see wide open spaces and blue skies. It's a moment."
Southern Pearl also will offer picnics during the farm's Fall Festival weekends, which run from mid-September through October.
Contact Lisa Denton at [email protected] or 423-757-6281.