NASHVILLE — Tennessee lawmakers' special session on public safety to address the aftermath of a deadly private school shooting spree in Nashville took an unexpected turn Tuesday after the Senate Judiciary Committee approved three fairly noncontroversial measures and then called it quits.
Other measures can await lawmakers' regular session in January, when they will have time to be properly vetted and debated, Senate Judiciary Committee Chair Todd Gardenhire, R-Chattanooga, told reporters.
"We didn't have time to really look into every one of these bills," Gardenhire told reporters following the committee's action. "They were very complicated, and to give them justice, we didn't table them. Hopefully, they'll bring them back in the next session."
Meanwhile, the GOP-controlled House is now embroiled in a controversy after the chair of the Civil Justice Subcommittee, Lowell Russell, R-Lenoir, directed state troopers to eject audience members, most of them women, for clapping, speaking and holding small signs after being told to stop. That came under new rules the Republican supermajority approved this week over Democrats' objections.
Among those directed to leave were mothers whose children attend The Covenant School, site of the March 27 shooting that took the lives of three 9-year-olds and three adults. One Covenant mother was supposed to address the panel.
Photo Gallery
Tennessee special session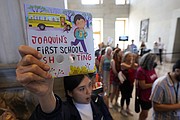 "I was supposed to testify," Sarah Shoop Neumann, who did not participate in the public display, later told reporters. She was later allowed back to testify against a bill that allows more teachers to carry guns at school, The Associated Press reported.
Gardenhire's committee later approved three of the 55 bills on the calendar.
One of them is a measure brought by Gov. Bill Lee to incentivize but not require safe storage of firearms by gun owners. The bill, among other things, lifts the sales tax on purchases on gun safes and storage devices. Firearms stolen from vehicles have been a problem in Tennessee, with Chattanooga Mayor Tim Kelly and several of his urban counterparts urging changes earlier this year.
A second bill would codify Lee's executive order issued following The Covenant School shooting to require local courts to provide information more quickly to the Tennessee Instant Check System. The system performs background checks on prospective gun buyers.
The third bill deals with human trafficking.
House Speaker Cameron Sexton's office had no immediate comment on Gardenhire and his committee's action. Sexton, R-Crossville, is promoting several bills, including one to create blended sentences for juveniles convicted of violent crimes under which they would serve part of their sentences in juvenile facilities and later be transferred to adult prisons.
The speaker and others are also interested in boosting spending on mental health.
Sen. Jeff Yarbro, D-Nashville, called Tuesday's Senate Judiciary Committee hearing a "farce."
"The committee went in and considered three bills ... adjourned without hearing the other 52 bills," Yarbro, an attorney, said. "Obviously, I'd rather do no harm rather than pass harmful bills. But that is no way to judge the success of a special session. It was the Judiciary Committee that chose not to consider legislation, to even consider legislation during regular session. Which necessitated the call for the special session."
House members during the session, which began Monday, have introduced 114 bills, while senators filed 104 on various topics, according to legislative records.
Shortly after the Covenant shooting, Lee called on lawmakers to pass a law allowing judges to issue orders to remove guns from someone deemed mentally ill or otherwise dangerous.
The school shooter, a 28-year-old former Covenant student, was killed by responding police. Lee and his wife knew one of the shooting victims.
Most of the governor's fellow Republicans gave his proposal a thumbs down. Gun-rights groups sharply criticized it. Lt. Gov. Randy McNally, the Republican Senate speaker from Oak Ridge, was one of the few who publicly supported it.
The governor has made no public attempt to promote his judicial order idea since he was roundly criticized by gun-rights groups and some of his fellow Republicans when he first called for the action.
"That one was not even pushed by the governor, and so if he wasn't interested in promoting it, no one else was either," Gardenhire said.
The senator noted if it comes back up in regular session next year, lawmakers can hold a hearing, have a "little bit better discussions" and debate the issue.
Gardenhire said that in the spring, he moved all remaining gun bills, both to expand gun rights or restrict them, to 2024 because of the emotional atmosphere following the shooting. He was criticized by both sides.
Lawmakers in the spring went along with Lee to inject $140 million into school safety measures, Gardenhire said.
"That's doing something, that's putting money where our mouth is," he said. "Just because we don't do what one person wants doesn't mean we're not doing anything. A crusty old Democrat senator said one time there's three times to look at a bill. You can pass (it), you can not pass it. Or you can do nothing. And sometimes, doing nothing is doing better than passing or not passing."
The senator he was referring to was the late Sen. Ward Crutchfield, D-Chattanooga.
In other action Tuesday, House K-12 Subcommittee members moved bills to authorize public schools and charter schools to use retired law enforcement officers and military veterans as school resource officers and require all schools to have alarms differentiating between fires, active shooters and other emergency situations.
Also approved was a bill directing the state Department of Education to set up a grant system to help offset costs.
The House Public Service Subcommittee approved a bill carried by House Majority Leader William Lamberth, R-Portland, to exclude autopsy records and medical examiners' reports of minors from the state's Public Records Act. Public records advocates have raised concerns.
Contact Andy Sher at [email protected] or 615-285-9480.