The pregame nerves that arrive like clockwork before every game, and that run especially high for a prep football season opener, were there as expected for Gerald Jones last Friday.
Adding to the tension for East Hamilton's defensive coordinator, his wife Jennifer and their family was the realization that he was stepping back onto the field for the first time — almost one year to the day — since a health scare that nearly claimed his life.
"Last Friday night was three hours of hell for me," Jennifer said. "That first game last year was really traumatic, to see your husband struggling to survive, so there was definitely some PTSD seeing him back on the field. I was constantly watching him to make sure he was OK, and just worried and anxious the whole game."
Early in the first quarter of the Hurricanes' 2022 season opener at rival Ooltewah, Jones began to feel sluggish. After yelling at an East Hamilton defender for missing an assignment, Jones felt a pain in his chest and walked to the bench area to grab a plastic bottle and squirt cold water on his face.
As the game wore on, Jones became short of breath and began to feel dizzy. He made it to halftime before finally asking the team trainer, who was standing nearby, for help. After making her way to the field from the stands, and knowing her husband's history of heart problems, Jennifer asked another coach to call 911 before rushing to be with him.
As he was being lifted into the ambulance, Jones said he remembers one paramedic informing him that he was experiencing a heart attack.
"After that, I just closed my eyes and started thinking about my family and wondering what was going to happen," said the 48-year old Jones, who had two stents inserted in 2018 because of blockages in his heart. "That was scary."
Photo Gallery
East Hamilton defensive coordinator Gerald Jones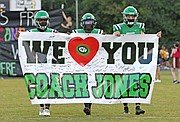 FORWARD, BACK
Within hours of the heart attack, Jones underwent emergency triple bypass surgery. During the nearly five-hour procedure, he actually flatlined on the operating table and had to be resuscitated.
A tough-as-nails two-way player at Tyner Academy, and someone who has dedicated his career to taking the traits he learned under legendary former Rams coach Wayne Turner and instilling them into the young men he now coaches, Jones had just one question for his wife in the recovery room.
"When he opened his eyes and looked at me, the first thing he said was 'Did we win the game?'" Jennifer recalled. "I was like, 'You've got to be kidding me. After what we just went through, and that's what you're worried about.'
"But as a coach's wife, I learned a long time ago that's just how Gerald's mind works. He's always thinking about the team and the kids and the game."
After two days of recovery in the intensive care unit, Jones was moved to a private room, where he suffered three strokes — likely brought on by a blood clot caused from his heart not pumping properly during the on-field heart attack, doctors told the family. He was returned to ICU, where he spent nearly a week in recovery.
"We learned that having an emergency triple bypass is much different than one that is scheduled, and comes with more complications afterward," Jennifer said. "After all we had gone through, seeing him struggle on the field, being told he had died on the operating table and thinking we had gotten past the worst, and then all of a sudden his words were jumbled and his speech was slurred, and I knew immediately he was having a stroke.
"It's a miracle that he's still with us. He had a lot to overcome and recover from with speech therapy, physical therapy and so many different doctors. But throughout his recovery, he kept asking when he could go back to coaching. I think once the doctors told him he was done for the season, he finally accepted it and just worked to get back for this season."
After receiving a pacemaker in February, Jones was cleared to return for spring practices, although he was under doctor's orders to tone down the intensity and yelling on the sideline.
Jones, who had been promoted to become East Hamilton's defensive coordinator prior to last season, admitted he still gets fatigued more easily now and sometimes struggles with numbers. It's a lingering effect from the multiple strokes.
He said he now relies on fellow defensive assistant David Barger — a former defensive coordinator at Cleveland who also has been a head coach previously — to handle the role of amping up the energy and emotion for players.
PART OF A TEAM
The Hurricanes, who dedicated last season to Jones, fed off the emotion of his return last week, jumping out to a quick 20-0 lead at Hixson on their way to an impressive 40-16 win.
"It was scary last year to see him laying on the side of the field at halftime and then getting taken away by an ambulance. A lot of us are close to Coach Jones, and we didn't want to lose him," said senior defensive back Kireese Willis, who returned an interception 60 yards for a touchdown and totaled 176 offensive yards with two more scores on that side of the ball in last week's win.
"Coach Jones has always been that guy on the staff that we all know cares about us as a person and a player. Whenever I have an issue, Coach Jones is who I know I can go to and talk about it. He's a big part of our team that got taken away after just one half last year, and he had to overcome a lot of adversity just to be back out there with us.
"Having him back made us all happy. We know he loves it and we love having him back, so we wanted to play for him and show him how special he is to our team."
Including Willis, the Hurricanes return five starters from a defense that limited seven opponents to 14 points or less in reaching the state quarterfinals last season. They have moved up a classification this year to compete in a loaded Region 4-5A that also includes McMinn County, Ooltewah, Rhea County and Walker Valley.
East Hamilton is back on the road again Friday, going over the state line to face Heritage in Catoosa County, before playing its first home game next week against Franklin County.
"It's hard to describe the feeling of camaraderie you have from being a part of a team," Jones said. "Getting to be back out there, I just love the players and seeing them succeed and feeling like you have some impact on helping them grow as young men. That's why I couldn't wait to get back out there.
"I was nervous at first when I stepped on the field. It was kind of an odd feeling being back out there. But once we got past kickoff, I was good to go and felt back to normal. I was back where I'm supposed to be on Friday nights."
Contact Stephen Hargis at [email protected] or 423-757-6293.