U.S. Sens. Jon Ossoff, D-Georgia, and Marsha Blackburn, R-Tennessee, are teaming up on a bipartisan bill to boost oversight and accountability of the federal prison system.
Ossoff and Senate Minority Leader Mitch McConnell, R-Kentucky, are lead sponsors of the Federal Prisons Accountability Act, which would make the director of the Federal Bureau of Prisons a Senate-confirmed position. The U.S. Attorney General now appoints the position, which has significant authority over taxpayer dollars and more than 30,000 federal employees.
The legislation would limit the director to a single 10-year term following approval of a presidential nomination. Ossoff has led multiple bipartisan investigations of corruption, abuse and misconduct within the federal prison system.
"Last Congress, the Permanent Subcommittee on Investigations revealed the depth of chaos and dysfunction that has undermined security and civil rights in the Bureau of Prisons for over a decade," Ossoff said in a news release. "I'm pleased to partner with Sen. McConnell on this bipartisan bill that asserts the Senate's authority to confirm nominees for BOP's leadership and hold them to the highest standards."
Blackburn said in a release that a government agency that manages a multibillion-dollar budget and directly affects thousands of lives should not be exempt from Senate oversight.
"This bipartisan bill extends the Senate's duty of advice and consent to the director of the Bureau of Prisons, fostering greater transparency for employees and further protecting taxpayer dollars in the federal prison system," she said.
Hullander honored
Saturday at the Tennessee GOP's major fundraising event, the Statesmen's Dinner, the party honored Republicans who have actively promoted GOP causes and candidate campaigns. Selections are made by Republican congressmen in their respective districts.
This year, Hamilton County Trustee Bill Hullander was named Statesman of the Year in the 3rd Congressional District, with the support of U.S. Rep. Chuck Fleischmann, R-Ooltewah.
Chamber staff
The Tennessee Chamber of Commerce has promoted Sarah Burnett to be the business advocacy group's chief of staff.
"Sarah is an extremely talented and trusted team member at the chamber, and we are excited she will be taking on this new role," Chamber President and CEO Bradley Jackson said in a news release. "Sarah has a decade of experience leading teams and building relationships, and we are looking forward to her continued success in driving impactful outcomes for our organization."
The chamber, a lobbying force at the state Capitol, said the move came in response to the chamber's significant growth and continued expansion of its membership, advocacy efforts and strategic initiatives. In her prior role as director of membership and foundation development, Burnett executed the chamber's workforce development initiative, Be Pro Be Proud.
Prior to joining the Tennessee chamber, Burnett held a variety of leadership and operational roles in federal campaigns, national conventions and the Presidential Inaugural Committee. She previously served as the finance director at the Republican National Committee, where she led a team of 40 staff and oversaw donor, marketing and digital fundraising efforts.
Prior to joining the RNC, Burnett served as deputy finance director for Marco Rubio's 2016 presidential bid.
"I am excited to take on this new role and ensure the Tennessee chamber can continue building on its recent accomplishments," Burnett said in the release. "Tennessee is fortunate to have a vibrant community of businesses that deeply care about their communities. The job of the Tennessee chamber is to support our members and provide businesses with the vital information they need to operate and grow. A strong business community means a strong economy for Tennessee."
Trump criticizes DeSantis
While Florida Gov. Ron DeSantis, a Republican presidential hopeful, was in Nashville on Saturday as keynote speaker at the Statesmen's Dinner, former President Donald Trump was in West Palm Beach, Florida, questioning why the governor was even running.
"We are totally dominating DeSantis right here in the state of Florida," Trump told activists attending Turning Point Action, the political arm of Turning Point USA, a pro-Trump grassroots organization focusing on young conservatives, The New York Times reported. "He was never that close, by the way. I don't know why he's not here. He should be here representing himself.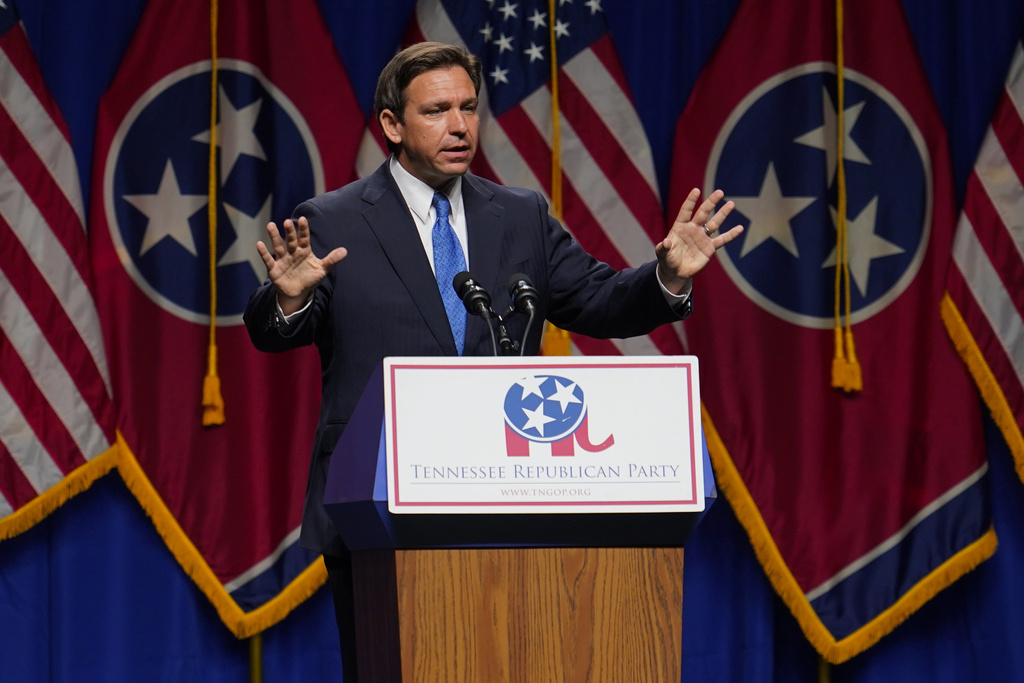 Republican presidential candidate Florida Gov. Ron DeSantis speaks during the Tennessee Republican Party Statesmen's Dinner on Saturday in Nashville. (AP Photo/George Walker IV)
  "So we want him to get home and take care of insurance because you have the highest insurance in the nation," Trump added.
During his Tennessee speech, DeSantis took a few veiled shots at Trump, although avoiding mentioning the former president by name.
"You can't coddle bureaucrats like Dr. Fauci," DeSantis said of Anthony Fauci, who was an adviser to Trump during the pandemic in addition to his duties running the National Institute of Allergy and Infectious Disease. Trump administration policies to combat the disease resulted in a backlash in Trump's base.
"The way to handle them is simple," DeSantis said. "Anthony, you're fired."
Contact Andy Sher at [email protected] or 615-285-9480.