Good to know
Tennessee has landed among the Top 10 best states for summer vacation, according to research by financial website Scholaroo. The research is based on a first-time study to identify the levels of summer-oriented facilities and entertainment in all 50 states, analyzing 20 metrics organized into four main indicators: summer entertainment, infrastructure, crime and safety, and accessibility. Wyoming, Hawaii, Florida, North Dakota and Tennessee ranked as the states with the best recreation options and infrastructure to welcome tourists. Alabama placed at No. 11, and Georgia was 33rd. See the complete study at scholaroo.com/report/summer-vacation-2023.
ARTS
ATHENS ART CENTER — 320 N. White St., Athens, Tenn. "The Magic of Watercolor" by Tennessee Watercolor Society, through Aug. 14. athensartscouncil.org
FRANKLIN COUNTY ARTS GUILD — The Artisan Depot, 204 E. Cumberland St., Cowan, Tenn. "Something for Children" community show, through July 30. franklincoarts.org
HUNTER MUSEUM OF AMERICAN ART — 10 Bluff View. huntermuseum.org
— July 27: Art Wise: Tour of "In Nature's Studio: Two Centuries of American Landscape Painting" with exhibition curator Scott Schweigert of the Reading Public Museum, 6-7 p.m. Regular admission applies ($20 nonmember adults).
— July 29: "In Nature's Studio" excursion to Williams Island with Tennessee River Gorge Trust, 10 a.m.-4 p.m. Includes educator-led tour of the exhibition and boat ride to the island to sketch or photograph the surrounding landscape. Light snacks and sketching materials included; guests should bring picnic lunches and blankets. Must be 16 or older. $20-$25. Rain date is Aug. 5.
IN-TOWN GALLERY — 26A Frazier Ave. "A Fine Line," by Doug McCoy, through July 31. intowngallery.com
JEWISH CULTURAL CENTER — 5461 North Terrace. "Jews, Blues & All That Jazz," with works by 12 artists, through Aug. 4. jewishchattanooga.com
NORTH RIVER CIVIC CENTER — 1009 Executive Drive, Suite 102. "The Artists' Overview" by 18 local artists, through July 31. 423-870-8924
NORTHSIDE GALLERY — Northside Presbyterian Church, 923 Mississippi Ave. Works by 14 area artists, including members of the Civic Arts League of Chattanooga, through Aug. 31. 423-266-1766
PHOTOGRAPHIC SOCIETY OF CHATTANOOGA — Gallery at Blackwell, 71 Eastgate Loop. Spring show, through Aug. 25. chattanoogaphoto.org
RIVER GALLERY — 400 E. Second St. Works by Bill Suttles and Debra Nadelhoffer, through Aug. 31. Emerald Estock woven photography demonstration, 1-4 p.m. July 29. river-gallery.com
RUBY FALLS — 1720 S. Scenic Highway. "Through the Lens: The Life and Legacy of Horace Brazelton," the first African American to open a professional photography studio in Chattanooga, 8 a.m.- 8 p.m. daily through Sept. 15. Free admission; Ruby Falls tickets sold separately. rubyfalls.com
(READ MORE: Black portrait photographer featured at Ruby Falls)
STOVE WORKS — 1250 E. 13th St. "Éramos Semillas (We Were Seeds)," through Nov. 11. stoveworks.org
TOWNSEND ATELIER — 301 E. 11th St. Debut of eight-city traveling exhibit, "Together: A Portrait of Americans," by Chattanooga artist David Michael Salerno, featuring 40 portraits of Chattanoogans, through July 28. townsendatelier.com
COMEDY
THE COMEDY CATCH — 29 Station St. thecomedycatch.com
— July 26: Ben Palmer in special engagement, 7 p.m. $20-$30.
— July 28-29: Mr. Showtime David Scott, 7:30 and 9:45 p.m. $20-$25.
WALKER THEATRE — 399 McCallie Ave. Bored Teachers, 7 and 9:30 p.m. July 26. $29-$49. tivolichattanooga.com
FILM
BOBBY STONE FILM SERIES — Walker Theatre, 399 McCallie Ave. "Jaws," 7 p.m. July 28. "No Country for Old Men," 7 p.m. July 29. $11-$13. tivolichattanooga.com
MUSIC & MOVIES IN MILLER — Miller Park, 928 Market St. Screening of "Jumanji" at sunset (8:30 p.m.) July 29. Music by Ogya World Music Band, food trucks, artist vendors, face painting, oversize games, animal-themed arts and crafts and book giveaway start at 6 p.m. Free. rivercitycompany.com
MUSIC
BARKING LEGS THEATER — 1307 Dodds Ave. Jazz in the Lounge with the Prakash Wright Trio, 7 p.m. July 26. $5. barkinglegs.org
BARRELHOUSE BALLROOM — 1501 Long St. barrelhouseballroom.com
› July 27: The Georgia Thunderbolts, with Camden Smith, 9 p.m. $15-$20.
› July 28: Et Cetera, with Dolphin Group, 9 p.m. $12-$15.
› July 29: Fingernails Are Pretty: An All-Female Foo Fighters Tribute, with Dollars Family Band, 9 p.m. $15-$20.
THE CAVERNS — 555 Charlie Roberts Road, Pelham, Tenn. thecaverns.com
— July 23: Kurt Vile and the Violators, with Florry, 5 p.m. CDT. $57.
— July 28-29: Blackberry Smoke, with Adam Hood on Friday and Caitlin Krisko & The Broadcast on Saturday, 8 p.m. CDT. $69 either night.
NIGHTFALL — Miller Plaza, 850 Market St. Summer music series continues July 28, rain or shine, with headliner Joshua Hedley at 8 p.m.; The Magic Birds open at 7 p.m. Food trucks and art market start at 6:30 p.m. at Miller Park across M.L. King Boulevard. Free admission. nightfallchattanooga.com
OFF THE RAILS CONCERT SERIES — Burr Performing Arts Park, 101 S. Hamilton St., Dalton, Ga. Sail On: The Beach Boys Tribute, plus Remembering January and As Seen On TV, 6:30 p.m. July 28. Free. visitdaltonga.com
RINGGOLD FIRST BAPTIST CHURCH — 7611 Nashville St., Ringgold, Ga. Concert by Eurobrass, 12 U.S. and German musicians, 7:30 p.m. July 27. Free admission; love offering will be taken. eurobrass.de
RIVERFRONT NIGHTS — Ross's Landing, 201 Riverfront Parkway. Summer concert series continues with The Stews and Cowboy Mouth, 7-10 p.m. July 29. Concession sales start at 6 p.m., or bring your own coolers. Pets welcome. Free. riverfrontnights.com
THE SIGNAL — 21 Choo Choo Ave. Shrek Rave, 9 p.m. July 29. $22-$36. thesignaltn.com
SUMMER MUSIC WEEKENDS — Rock City, 1400 Patten Road, Lookout Mountain, Ga. Live entertainment by country, folk and bluegrass artists, raptor shows and seasonal foods, weekends through Sept. 4. Hours: 8:30 a.m.-8 p.m. through Aug. 13, 8:30 a.m.-7 p.m. starting Aug. 14. $20-$30. seerockcity.com
WALKER THEATRE — 399 McCallie Ave. Ann Wilson of Heart, 7:30 p.m. July 24. $45-$75. tivolichattanooga.com
OUT & ABOUT
AMERICAN TEAM CHAMPIONSHIPS — Chattanooga Convention Center, 1 Carter Plaza. Group and single-player competitions for players of "Warhammer 40,000," "Warhammer Underworlds," "Age of Sigmar," "Horus Heresy," "Kill Team," "Kings of War," "Star Wars Legion," "Marvel Cris Protocol" and other miniatures games, July 28-30. whatc.org
ARIES FIGHT SERIES 19 — Chattanooga Convention Center, 1 Carter St. Fifteen matches, including Anson Phillips and Lukas Cox in welterweight championship, 5 p.m. July 29. $40. fightertix.com
CHATTANOOGA MARKET — First Horizon Pavilion, 1801 Reggie White Blvd. Open 11 a.m.-4 p.m. Sundays with farm produce, artisan foods, flowers, arts, crafts, live music and food trucks. Free admission. chattanoogamarket.com
— July 23: FiveStar Food Fight cooking competition among Chattanooga chefs.
— July 30: Chattanooga Bluegrass, with Randy Steele at 12:30 p.m. and New Grass Express at 2 p.m.
CHATTANOOGA RIVER MARKET — Tennessee Aquarium plaza, 1 Broad St. Market of handmade arts, crafts and other products, plus artisan foods, food trucks and live music, 10 a.m.- 5 p.m. Saturdays through October. Free admission. chattanoogamarket.com
CIVIL WAR HISTORY — Wilder Brigade Monument (Tour Stop 6) at Chickamauga and Chattanooga National Military Park, Fort Oglethorpe, Ga. (Visitor Center is at 3370 LaFayette Road). "Calling on President Lincoln: The Bolts of War and Machinery," ranger-led program and demonstration exploring events surrounding the electromagnetic telegraph as a tactical, operational and strategic communication medium in the war, 11 a.m. July 29. Free. nsp.gov/chch
GEORGIA MOUNTAIN MOONSHINE CRUIZ-IN — Dalton Convention Center, 2211 Tony Ingle Parkway, Dalton, Ga. Indoor/outdoor show includes hundreds of vehicles, live bands, Thursday night kickoff party, Friday night block party, 8 a.m.-5 p.m. July 27-29. Special guests include Mike Cockrell of TV's "Moonshiners," NASCAR legend Jody Ridley, car expert Sam Memmolo and the "First Lady of Motorsports" Linda Vaughn. $15 per day. gammoonshinecruizin.com
GORDON-LEE MANSION — 217 Cove Road, Chickamauga, Ga. Historic site open for tours 10 a.m.-4 p.m. Saturdays through Labor Day. $1-$5. Proceeds fund improvements by Friends of the Gordon-Lee Mansion nonprofit group. friendsofthegordonleemansion.org
HIXSON FARMERS MARKET — St. Alban's Episcopal Church, 7514 Hixson Pike. Features local farmers, gardeners and artists, 9:30 a.m.-12:30 p.m. Saturdays. Live music on first Saturdays, free pancake breakfast on third Saturdays. [email protected]
NO SMOKE SUNDAYS — Miller Park, Free games, food and music for middle and high school students and their families, designed as drama-free way to reduce gun violence, 6-8 p.m. Sundays in July. thelighthousecollectivecha.org
PINK BRIDAL SHOW — Chattanooga Convention Center, 1 Carter Plaza. One-stop shopping among wedding vendors, from bartenders to videographers, noon-4 p.m. July 30. $15 (discounts for bride and groom in advance). thepinkbride.com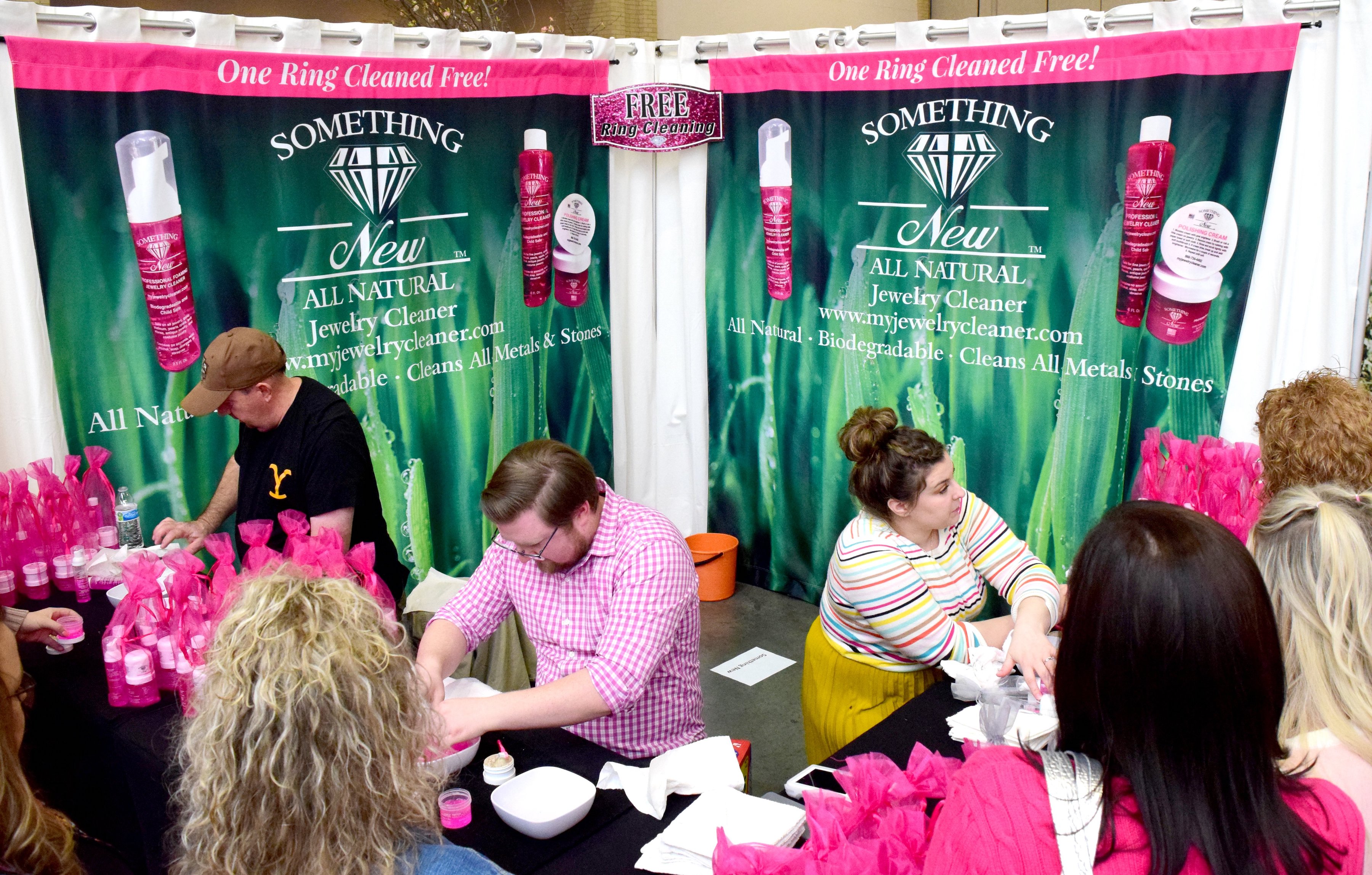 Staff File Photo by Robin Rudd / From left, Joe Wagner, David Wall and Laurissa Wall clean jewelry at the Something New booth at the January edition of the Pink Bridal Show at the Chattanooga Convention Center. The company's second wedding expo of the year returns July 30.
  
REFLECTION RIDING ARBORETUM & NATURE CENTER — 400 Garden Road. Registration required. reflectionriding.org/events
› July 28: Get Schooled: Native Animals, 1:30-2:30 p.m. (plus other Fridays). By donation.
› July 28-29: Get Schooled: Barn Owls, 1-1:45 p.m. (plus other Fridays and Saturdays). $25-$30 (free for children 12 and younger).
› July 29: Get Schooled: Birds of Prey, 9-10 a.m. (plus other Saturdays). $5-$10.
› July 29: Terrariums 101, 10:30 a.m.-noon. $20-$25.
› July 29: The Awesome Opossum, 11 a.m.-noon (every other Saturday, alternating with Snakes Alive). $5-$10.
STABLE 41 FARMERS MARKET — 214 First St., Fort Oglethorpe, Ga. stable41market.com
— July 23: Produce competition (people's choice), 1-4 p.m.
— July 27: Story Time Market, 3-6 p.m.
— July 30: Back to School Bash, 1-4 p.m.
TENNESSEE SALES TAX HOLIDAYS — tn.gov/revenue/taxes
— July 28-30: No sales tax on purchases of clothing, school supplies and art supplies priced at $100 or less and computers and other electronics priced at $1,500 or less (exemptions apply).
— Aug. 1-Oct. 31: No sales tax on food and food ingredients (includes most groceries but not alcoholic beverages, tobacco, candy or dietary supplements). Does not include prepared meals.
WALKER COUNTY FARMERS MARKET — Exclusive to vendors within 25 miles; 2-5 p.m. Wednesdays at Walker County Agricultural Center, 10052 N. Highway 27, Rock Spring, Ga., 9 a.m.-1 p.m. Saturdays at 100 E. Villanow St., LaFayette, Ga. facebook.com/DDALaFayetteGA
SPECTATOR SPORTS
CHATTANOOGA LOOKOUTS — AT&T Field, 201 Power Alley. Double-A affiliate of the Cincinnati Reds vs. Montgomery Biscuits. Kids Run the Bases promotion after every game. $7-$12. lookouts.com
— July 25: 7:15 p.m. Buy one, get one tickets with Food City ValuCard.
— July 26: 7:15 p.m. Backpack Giveback, with two free tickets for a donation of a new or gently used back-to-school backpack to be given to children in need; Chick-fil-A giveaway delivered via app.
— July 27: 7:15 p.m. Parrot Head Night; Thirsty Thursday drink specials.
— July 28: 7:15 p.m. Fireworks.
— July 29: 7:15 p.m. Faith & Family Night, with pregame performance by The Union; used car giveaway.
— July 30: 2:15 p.m. Free general-admission tickets with a donation of canned goods to Chattanooga Area Food Bank; Catch on the Field (tennis balls provided).
THEATER
CHATTANOOGA THEATRE CENTRE — 400 River St. "Something Rotten," 2:30 p.m. July 23, 7 p.m. July 27, 8 p.m. July 28-29, 2:30 p.m. July 30, 7 p.m. Aug. 3, 8 p.m. Aug. 4-5, 2:30 p.m. Aug. 6. $25-$30. theatrecentre.com
CUMBERLAND COUNTY PLAYHOUSE — 221 Tennessee Ave., Crossville, Tenn. ccplayhouse.com
› Through July 27: "The Trip to Bountiful." $19-$35.
› Through Aug. 13: Roald Dahl's "Charlie and the Chocolate Factory: The New Musical." $19-$35.
› Through Aug. 19: "The SpongeBob Musical," youth production. $7-$8.
› Through Sept. 10: "All Shook Up," featuring Elvis Presley songs. $19-$35.
SIGNAL MOUNTAIN PLAYHOUSE — Corner of Rolling Way and James Boulevard. "Seussical," musical comedy based on stories by Dr. Seuss, 8 p.m. July 28-29 (final weekend). $5-$15 (cash or checks only). Bring your own seating. smph.org
THEATRICO — Outside Westin hotel, 801 Pine St. New theater company debuts with musical "The Fantasticks," 8 p.m. July 27-29. $30; VIP and dinner packages available. theatrico.ticketleap.com/fantasticks
Find more events, and add your own, at timesfreepress.com/cnevents.
Contact Lisa Denton at [email protected] or 423-757-6281.