This story was updated on June 2 to correct the gigabit-per-second internet speed EPB began offering in 2022 to all customers in its footprint.
______
Chattanooga, how do we love thee? Let us count the ways.
One, the urban wilderness. Two, the internet speed. Three, the blue rhino sculpture in Coolidge Park. Four, Uncle Larry's restaurant, which just opened its fourth location serving up that famous fried fish.
We could go on — and we will. Below, we present you with dozens of reasons to love Scenic City for its businesses, sports and quality of life. (See more reasons why we love Chattanooga on our homepage.)
Meet a few of the folks who make us most proud, from football legends to industry pioneers who are changing the world. See the stats that compare our cost of living to other mid-size cities, and reacquaint yourself with the history of our iconic cityscape.
Get ready to feel even more grateful to call Chattanooga home.
BUSINESS
Gig City
In August, Gig City leaders announced they were boosting internet speeds again, helping make Chattanooga the first community anywhere in the world to offer citywide 25 gigabit-per-second broadband service to all homes and businesses.
By The Numbers
> 2010, the year EPB's fiber optic network was developed, originally to help build a smarter electricity grid to improve power reliability. The same fiber lines were used to build one of the world's fastest internet networks with gigabyte-per-second internet speeds across the entire city.
> $2.7 billion, the amount of additional economic development EPB's gig service helped spur, according to a University of Tennessee at Chattanooga study
> 9,500, number of additional jobs in Chattanooga credited to EPB's gig service, according to the same UTC study
> 25, gigabit-per-second internet speed EPB began offering in 2022 to all customers in its footprint
Chattanooga Times Free Press Trivia
> Since the Times Free Press began publishing in 1999, it has published two editorial pages — one conservative and one liberal, to represent the leanings of the conservative Free Press and liberal Times.
> Adolph Ochs, who later purchased the New York Times and transformed it into the world's most influential paper, became full owner of the Chattanooga Times in 1880 and remained its publisher until his death in 1935.
> The Times Free Press employs a Pulitzer Prize-winning cartoonist, Clay Bennett.
THE SPORTS
Best Lineman Ever
It certainly can be argued that the greatest offensive and defensive linemen in NFL history played high school football in Chattanooga. In fact, the "Future Football Legends" website recognizes John Hannah and Reggie White as such. Hannah was a Baylor School boarding student in 11th grade before going on to success at Alabama and at left guard with the New England Patriots, where he started all 138 games and was named All-Pro 10 times, including seven as a first-teamer. White, nicknamed the "Minister of Defense," starred at Howard High School and at Tennessee before dominating the NFL with the Philadelphia Eagles and the Green Bay Packers. He racked up 198 career sacks and 33 career forced fumbles, and he recorded double-digit sacks each of his first nine years to set an NFL record.
— David Paschall
Baylor's own quartet
Baylor School has made history as the first high school to have four alums — Harris English, Stephan Jaeger, Luke List and Keith Mitchell — on the PGA Tour at the same time. English is a four-time winner on the tour and earned a spot on the 2021 Ryder Cup team, while Mitchell won the 2019 Honda Classic and List the 2022 Farmers Insurance Open. Jaeger has yet to prevail on the PGA Tour but was a six-time winner on the Korn Ferry Tour. Baylor's quartet tops Milton High in the Florida panhandle, which in the late 2000s had Heath Slocum, Bubba Watson and Boo Weekley on the PGA Tour.
— David Paschall
Global runners-up
Chattanooga has never produced a Wimbledon winner or a Masters champion, but this city did have the runner-up in consecutive years. Lookout Mountain's Roscoe Tanner reached the 1979 final of the world's biggest tennis tournament, which was the first "Breakfast at Wimbledon" on NBC, and nearly prevented legendary Bjorn Borg from a fourth straight title before Borg pulled out a 6-7, 6-1, 3-6, 6-3, 6-4 thriller. There wasn't nearly that drama in the 1980 Masters won by a 23-year-old Seve Ballesteros, but Gibby Gilbert finished four shots back and in a tie for second. Gilbert earned $30,500 for his runner-up showing.
— David Paschall
Lookouts Lunacy
The Chattanooga Lookouts are among the oldest professional baseball franchises, having started in 1885, and definitely among the most unique. In 1931, former Lookouts owner Joe Engel traded a shortstop to Charlotte for a turkey. Engel Stadium had the sport's deepest centerfield wall at 471 feet, and two camels, "Larry and Lumpy," were kept in the outfield in 1996. The Lookouts moved from Engel after the 1999 season into AT&T Field, which became the site of the most entertaining managerial ejection and meltdown in baseball history provided by Phillip Wellman in 2007.
— David Paschall
QUALITY OF LIFE
It's hard to sum up a place's quality of life with a string of numbers. Still, there are some compelling statistics about Chattanooga's weather, location, traffic patterns and cost of living that attest to a quality lifestyle.
By the Season
Chattanooga is known for its four-season, temperate climate: abundant rainfall, cool to cold winters and warm to hot summers. Here's the average temperature on the first day of the four months that mark the meteorologists' four-season calendar.
March 1: High 59, low 39
June 1: High 83, low 63
Sept. 1: High 87, low 68
Dec. 1: High 57, low 39
Cost of Living
When it comes to the overall cost of living for cities in the Midsouth, Chattanooga is one of the less expensive options. Below are estimated average yearly expenses for a family of four which include housing, food, child care, transportation, health care, taxes and other necessities.
Chattanooga — $74,769
Greenville, South Carolina — $73,295
Asheville, North Carolina — $94,948
Huntsville, Alabama — $84,015
Knoxville — $74,121
(Source: The Economic Policy Institute)
Did you know?
Tennessee is one of seven states with no state income tax and/or tax on interest and investments. The others are Alaska, Florida, Nevada, South Dakota, Texas and Wyoming, according to investopedia.com.
Drive Times
Chattanoogans get off easy when it comes to rush-hour traffic. Despite being at the intersection of Interstates 75 and 24, the daily commute to work is not too bad. In fact, the average daily commute for Chattanooga is less than most of the surrounding cities, according to the U.S. Census Bureau.
Chattanooga: 19 minutes (daily commute to work)
Knoxville: 20 minutes
Huntsville, Alabama: 22 minutes
Asheville, North Carolina: 18 minutes
Greenville, South Carolina.: 21 minutes
Nashville: 28 minutes
Atlanta, Georgia: 39 minutes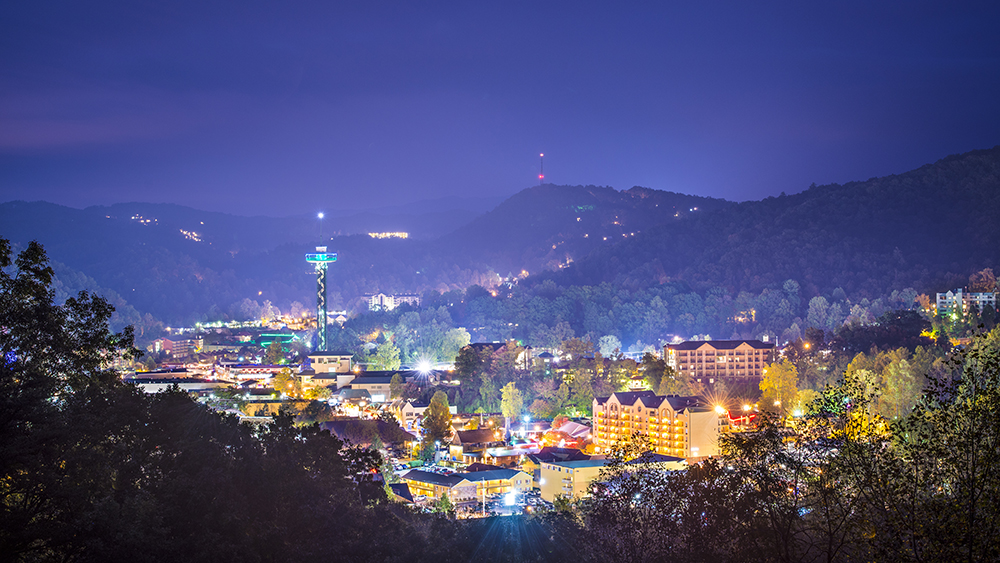 Contributed photo / Gatlinburg, Tennessee in the Smoky Mountains.
  Car Trip Heaven
Location. Location. Location. One of the perks of living in Chattanooga is being 2-3 hours away from some other notable cities and destinations.
Atlanta — 117 miles
Nashville — 134 miles
Knoxville — 111 miles
Birmingham, Alabama — 148 miles
Gatlinburg/Smoky Mountains — 152 miles