Addie Chapman has fulfilled a childhood sports dream well ahead of schedule.
Chapman is a Silverdale Baptist Academy senior whose final season of high school soccer is still ahead this fall, but this past Saturday, she became the first active Chattanooga Football Club Academy player to debut for the CFC women's team in the Women's Premier Soccer League.
Chapman didn't just make it on the field, though; she played a part in her team's prolific scoring, drawing in the defense from her spot in midfield and setting up Krysan St. Louis for an open shot in the 7-0 victory over FC Birmingham at Finley Stadium.
"Growing up, we would come to all the CFC games," Chapman said. "I remember standing with the Chattahooligans and cheering for the women's team. I remember watching some of the players who are on the team now and being inspired by them. I thought they were amazing. I was like, 'One day I want to play for them and inspire other little girls, too.'"
Photo Gallery
Chattanooga FC player Addie Chapman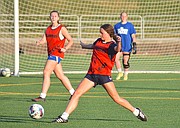 What separates Chapman is her ability to see plays develop before they happen as she constantly scans the field, looking for the best way to pick apart the opposing defense and create chances for high-quality shots by her teammates. In her junior season at Silverdale this past fall, she was honored as MVP of the East Region in TSSAA Division II-A, scoring 15 goals and assisting on 22 others for the Lady Seahawks, who finished 16-2-1 and reached the state tournament.
Making the CFC women's roster was a surprise to Chapman, but she stood out enough in tryouts to impress head coach Randy Douglas. She's not the only Tennessee high school senior on the roster, either, with Farragut's Brady Livingston joining Chapman — and Douglas calling both "a big part of the future I see with this WPSL team."
"We could have gone a lot of different directions, and we turned a lot of people away," Douglass added. "They are both strong players who have grown up in the CFC Academy. When they put on that uniform, it means a lot to them and is very special. I am happy for them. They get to do something a lot of players don't get to do."
Chapman played this spring for CFC Academy's 06 Navy team, which was coached by CFC legends Juan and Summer Hernandez.
Summer is the leading goal scorer in CFC women's history, and she added to her accolades with a perfect hat trick in the win against Birmingham as she scored with her head, right foot and left foot. She was proud to see Chapman land an assist in her debut.
"It's funny because in the locker room, Addie's locker is right beside mine," Summer said. "I told her before the game, 'We are now teammates. We have a different relationship now than just coach-player.' When she got the assist, I was like a proud coach-slash-teammate. It was really exciting to see her step up into this role on the women's team."
Chapman's trajectory is, in fact, very similar to one of her role models in Hernandez, who was honored by Gatorade as Tennessee girls' soccer player of the year in 2013 while at Soddy-Daisy High School. Chapman is committed to Lee University, the same Lady Flames program for which Summer scored 56 goals and twice was named Gulf Coast Conference player of the year.
"In the CFC Academy games, Summer would give me pointers along with Juan, and I would be like, 'Wow, that actually really helped,'" Chapman said. "She still does that on the field now that we are teammates, which is fun.
"I definitely have gotten closer with her. She just feels like a teammate. She has always been super friendly and welcoming as a coach and as a player."
CFC (1-0-1), which opened the season with a 2-2 tie against the Nashville Rhythm, will play twice this weekend on the road, facing 865 Alliance at 6 p.m. Friday in Knoxville and the Atlanta Fire at 7 p.m. Sunday.
"Playing in the WPSL is a whole new aspect of soccer," said Chapman, who wrapped up her junior year at Silverdale by competing last month in the TSSAA DII-A pentathlon and the track and field state meet for the Lady Seahawks.
"This high level of play pushes me, and I loved to be pushed as a player. I never really excepted to make the team. But as soon as I did, I was like, 'Now I have to fight for my minutes.' I am excited. I hope to one day coach a few teams at the Academy and maybe grow a player to join the women's team and keep the cycle going."
Contact Patrick MacCoon at [email protected].