If you hear the name Smelly Cat Café and instantly think of television's free-spirited Phoebe Buffay singing her beloved hit by the same name, you're on the right track.
"I'm obsessed with the show 'Friends,' so that's where that came from," said Brooklynn Bishop, who last week opened a cat adoption shop off Cherokee Boulevard in the North Shore.
For the past six years, Bishop had been working in the veterinary industry. She had wanted to open a cat café for years, but bringing the idea to life was out of reach, financially. But last Christmas, her husband's gift to her was to bring her dream to reality.
(READ MORE: Chattanooga's Naughty Cat Cafe diverts more than 1,000 cats from shelters into homes)
When the Bishops began talking to banks, they were repeatedly turned down. Cats, as it turns out, couldn't be used as collateral. Finally, though, they were able to secure a $15,000 loan, and now operate the café as a for-profit business, raising money to care for the cats and cover their business costs.
"I have seen first-hand the neglect of animals. People don't want to spay and neuter animals, and that's why we have countless cats running around. I strongly believe that if you're going to have an animal, you should be ready to take care of it," she said. "Shelters are at capacity, and they're having to euthanize cats weekly because of overpopulation."
Smelly Cat differs from similar "cat cafés" in that Bishop takes in cats not just from shelters but from the community at large. And in doing that, she also takes on responsibility for covering the costs of getting the cats adoption-ready, which includes paying for medical treatments, including spaying and neutering.
"As a new business that just opened, it's expensive," she said. "But we're doing everything we can to help."
(READ MORE: Red Bank considers new animal control ordinance with rules on dog tethering, clarity on community cats)
Photo Gallery
Smelly Cat Cafe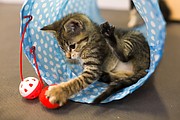 Currently, Smelly Cat has 17 cats available for new homes, five of them kittens. During the adoption process, Bishop will request a veterinarian and personal reference. Assuming both are positive, new owners can most times take the cats home within hours. Kittens, though, must continue to stay at the shelter until they are 12 weeks old.
Smelly Cat is currently partnering with the East Ridge Animal Shelter and the North Georgia Animal Alliance, and may add more to that list. The adoption fee is $80, which Bishop often gives back to the shelters to cover their costs.
Chattanooga's first cat café was Naughty Cat Café in St. Elmo, which works with the Humane Educational Society, the Pet Placement Center and Scratch.
"We're not really trying to make money with this," Bishop said. "Our main goal is to ensure the cats are comfortable and have a place to live. Currently, I have a 13-year-old cat who had been living in a kennel for the past six to eight months. Here, he can have plenty of room."
(READ MORE: The best Chattanooga social media accounts local animal lovers should follow)
For Bishop, the measure of success would be to adopt out as many cats as possible. The more cats that leave for new homes, the more she can bring in, which equates to fewer animals roaming the streets.
Unlike a traditional café, Smelly Cat doesn't offer coffee or other menu items. Instead, Bishop provides a small selection of packaged goods and beverages.
"We wanted to prioritize the cats rather than spend money and resources on making products here," Bishop said.
MORE INFO
Hours: Monday, Tuesday and Friday: 11 a.m.-6 p.m.
Saturday: 10 a.m.-4 p.m.
Sunday: 1-5 p.m.
"Children's hours" are held the first two hours of every business day.
Price: The entrance fee for adults is $15. "Children's hours" cost $5 per hour.
Location: 201 Cherokee Blvd., Suite 103, with ground-level parking in a garage on Spears Street.
Contact: 423-582-8451
Contact Jennifer McNally at [email protected].