A year after the old Highland Park Baptist Church was destroyed in a massive fire, Chattanooga Fire Department investigators are still searching for more information about who was responsible.
The investigation is ongoing into the fire, and new information is being sought to move the case forward. Tips poured in after the fire, but none led to any arrests, according to a news release.
The subject of the search is a man on a bicycle who was seen on surveillance video in the area at the time of the fire. A cash reward of up to $5,000 is being offered for any tips that lead to an arrest, according to the Fire Department.
Photo Gallery
Highland Park church fire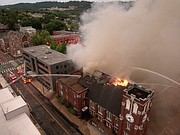 The fire, which burned for more than 19 hours, was reported at 7:13 p.m. on June 10. It required a 24-hour response and caused extensive damage to the old church, now the Phillips Chapel, and the neighboring Chauncey-Good Auditorium, which are both a part of the Redemption to the Nations Church campus. Parts of the buildings were later torn down.
Twenty-one of the department's 26 companies with more than 100 personnel responded to the three-alarm fire, in addition to multiple other local agencies. Firefighters first tried to attack the fire that appeared to be on both the first and third floors internally, but the building was evacuated because it was structurally unsound. No injuries were reported.
Surrounding roads were closed, and nearby residents were asked to shelter in place that night due to heavy smoke.
Anyone with information about the fire is encouraged to call the Tennessee Arson Hotline, 800-762-3017.
— Compiled by Kim Sebring