Boarded windows greet visitors at the home at 3104 E. 30th St., where it sits partway up a sloping road in the East Lake area of Chattanooga.
Beyond a small, stone retaining wall, a red sign stapled to the front door warns visitors that the building is unsafe, and a yellow sign with the city seal states the house is scheduled to be demolished. Inside, holes are opening in the ceiling, exposing the wood above. Paint peels away from the walls, cobwebs hang in the gloom and the bathroom floor appears to be sinking.
Citing health and safety concerns, the city condemned the building and ordered it be demolished, a decision officials have successfully defended in Hamilton County Chancery Court. However, the home's owner, Carl Ditto, believes the house is not beyond saving, arguing officials shouldn't be so quick to destroy a structure that could play a small role in addressing the city's dearth of housing options.
Numbers available on Chattanooga's public data-sharing website, ChattaData.org, show the city has demolished 120 structures since July 1, 2019. City spokesperson Kevin Roig said in an email that the city has taken 36 properties to a demolition hearing since July 1 of last year, five of those being commercial buildings and the remainder residential. Of those, 25 have been demolished — either by the city or property owner — and 11 are being rehabilitated.
Chattanooga's chief housing officer, Nicole Heyman, said in a phone interview Friday that if a property has degraded enough that the city has recommended demolition, the amount of money it would take to repair it is likely more than the cost of starting over from scratch.
"We have to balance our need to ensure safe, habitable properties that could be rehabbed ... with what happens once they reach a point of no return," she said.
Ditto initially purchased the house on East 30th Street at a tax sale on June 4, 2020, and hopes to sell the property to a buyer who would complete the renovation. After unsuccessfully attempting to alter the court's decision during a hearing on Monday, Ditto has 30 days to appeal.
"It's a perfectly good house," he said by phone. "It doesn't need to be demolished."
Photo Gallery
Condemned house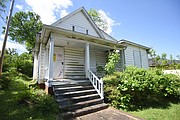 BUILDING CONDITIONS
Ditto said he has a structural assessment that backs him up. The report — completed by David Cartwright of Estes & Estes Engineering — states the home is "safe, stable and structurally adequate to carry the code-prescribed loads for which it was originally built."
(READ MORE: Chattanooga announces funding opportunities to boost affordable housing development)
In Cartwright's report, the gutters and downspouts were listed in poor condition. Windows and roofing were fair, Cartwright wrote, noting there were "several indications of rainwater penetration into the building."
The foundations as well as the wall, floor, ceiling and roof framings were stable and structurally adequate, Cartwright said. He suggested repairs to the porch framing.
City officials, however, believe the house is unsafe. An inspection report from May 2022 stated the home had been boarded up since 2019 and had not been maintained or improved. It also pointed to decayed wood, cracked plaster and peeling paint.
"Entire interior trashed, unkept, damaged and inhabited by vagrants," the comments said.
Following a Jan. 18 hearing, which Ditto said he missed because he was out of town on business, the city opted to start the approval process for tearing down the building.
A demolition order states the one-story frame structure has extensive damage throughout the inside and outside. That includes issues with the roof, front porch, ceiling and floors. It also cites exposed electrical systems and damaged plumbing, adding that the building is "extremely unsanitary." EPB records indicated the last date of electrical service was September 2016.
(READ MORE: Affordable housing for older adults proposed in $20 million Chattanooga project)
The city said the estimated cost of completing the necessary repairs on the 1,231-square-foot building — $80,015 — would exceed 50% of the property's value, "thereby making rehabilitation impractical."
Roig, the city spokesperson, said in an email that the city can cite dangerous, condemned properties to a demolition hearing if the estimated cost of repairs is more than half of the value of the structure. The $65 per square foot rate the city uses to calculate rehab costs is very low, he said.
LEGAL STANDOFF
Records show Ditto owns dozens of other residential properties in Hamilton County. He also owns property in Florida, where he lives. Ditto said he bought his first house when he was about 26 years old in 1984 and has continued investing in real estate.
"I was in the Coast Guard and basically everywhere I got transferred I bought a house and held onto it for rental or resale purposes," he said in an interview Monday. "For the last 20 years I've been focusing primarily on tax sales. That's why I'm frequently in court because tax sales tend to cause problems."
Ditto regularly travels to Chattanooga, where most of the properties he owns were purchased at tax sales. In March, Ditto challenged the city's demolition order at 3104 E. 30th St. in Hamilton County Chancery Court, and although he received a temporary restraining order that halted the destruction of the building, Chancellor Pamela Fleenor ultimately denied Ditto's request for an injunction.
"If he had presented a plan to repair the structure in Chancery Court, (Fleenor) would have granted him time and then held him to it," Roig said in an email. "He knew that: Code Enforcement has been through this with him before on other properties."
An April court order dismissing the case states Ditto has the funding to make the necessary repairs to bring the property into compliance, "however, he has not even spoken to a contractor."
"The structure has not had power since 2016; it has not been in compliance with the City Code since 2017; it has been condemned since 2019," the order states. "The city did not exceed its jurisdiction, follow unlawful procedures, nor act illegally, arbitrarily or fraudulently.
"Also, the court determines that the property cannot be brought into compliance now. Even though Mr. Ditto has funding, he has failed to obtain a building permit or a contractor. He admitted that it is difficult to find a contractor who can start a job now."
Having purchased the property at a delinquent property tax sale, Ditto said he didn't have a clear title on the house until early February, meaning the ownership is no longer in question. Until then, he said, pouring money into the building could have been a financial risk.
"Contractors typically don't want to talk to you if they find out that you're not going to do anything — all you're doing is making plans to present to a court or something like that," he added. "They'll talk to you if there's a realistic possibility of them getting business."
AFFORDABLE HOUSING
In an affidavit, real estate agent Aaron Shipley of ERA Blue Key Properties said the house at 3104 E. 30th St. "appears structurally sound" and would be a good candidate for restoration because of the detailed woodwork and moldings on the doors, windows and floors.
The court did not allow Ditto to enter affidavits from Shipley or Cartwright, the engineer, into evidence "as they are both hearsay," filings say. Chattanooga staff attorney David Schmidt, who represented the city in the case, said if Ditto had subpoenaed Shipley and Cartwright, their testimony could have been used in evidence and the city would have been able to cross-examine them.
(READ MORE: Chattanooga mayor proposes $100 million affordable housing initiative)
Shipley estimated the current fair market value of the property at between $80,000 and $85,000. After repair, that could increase to $225,000 or $250,000 based on recent comparable sales.
Condemnation by the city tends to decrease the value of a property, Shipley said, citing difficulty contractors have working with city personnel and time delays. As a result, contractors incur more costs and pass these on to the owner, he said, adding 20-40% more to the price of renovations.
"The city is currently experiencing a serious lack of affordable housing either for rent or for purchase by lower income persons," Shipley wrote. "I believe this property is an excellent candidate for renovation, restoration, rent or sale and demolishing it would adversely affect the interests of the city and its citizens."
CITY HELP
Hoping to preserve existing housing stock, city leaders are trying to better understand which Chattanooga neighborhoods are in the greatest need of assistance with repairs.
"We definitely can't build our way out of this crisis," Heyman said. "It's going to take a comprehensive approach to make sure we have enough good, solid, adequate, quality housing for residents."
Heyman said there could be an opportunity to offer low-interest loans or grants to landlords that would fund repairs to their properties on the condition they charge an affordable rent for a period of time.
In the immediate term, the city and Chattanooga Neighborhood Enterprise are launching a program for first-time homebuyers that will offer grants and low-interest loans for households earning less than 100% of area median income. That will launch at the Affordable Housing Resources Fair, 4:30-7:30 p.m. Monday at the Glenwood Community Center.
Through its rapid rental repair program, the city is also offering up to $4,900 per unit for landlords completing maintenance, providing their tenants earn 60% or below area median income.
Ditto said he's managed to fund repairs to two other houses he owns through the rapid rental repair program and found occupants with assistance from the Office of Homelessness and Supportive Housing. Because it's been condemned, Ditto said the property at 3104 E. 30th St. would require a complete renovation, which means $4,900 would be a fraction of the repair costs.
"I have a lot of irons in the fire, and this house needs a pretty fair amount of work," he said.
Contact David Floyd at [email protected] or 423-757-6249.