Horses run like wildfire across the Bluegrass, and people tend to get a little on the wild side along the famous Bourbon Trail. But the Southeastern sector of Kentucky may just offer the wildest adventure of all -- so much so that it's been officially named the Kentucky Wildlands.
"To be sure, Kentucky has lots to offer visitors that goes beyond the bourbon and bluegrass," says Tammie Nazario, director of The Kentucky Wildlands, an organization created to promote the area's beauty and heritage while working as a vehicle for economic development.
It's an expansive playground for outdoor adventure, spanning some 14,000 square miles -- bigger than any national park and encompassing more than 40 counties, showcasing Eastern Kentucky's natural beauty and Appalachian culture. One of the best things about a trip through The Kentucky Wildlands is its relative remoteness. A good portion of it lies undiscovered by the hordes of tourists who visit the state's larger cities, yet it's easily accessed by visitors from all around the Southeast.
For outdoor enthusiasts, The Kentucky Wildlands is home to one of the most diverse ecosystems on the planet. This largely untamed wilderness is a haven for adventurers seeking challenging hiking trails, climbing routes, biking, horseback riding, camping, caving, fishing and boating. Culturally, visitors can experience Appalachian artistry passed from generation to generation through the local crafts, food and music.
Outdoor adventures are available any time of year, but the scenery and temperatures are at their best during the spring, summer and fall, particularly during the festival seasons of summer and fall, "a convenient opportunity to sample a variety during weekend trips," Nazario adds.
Here's a sample of a long-weekend itinerary as you plan an excursion through the Wildlands.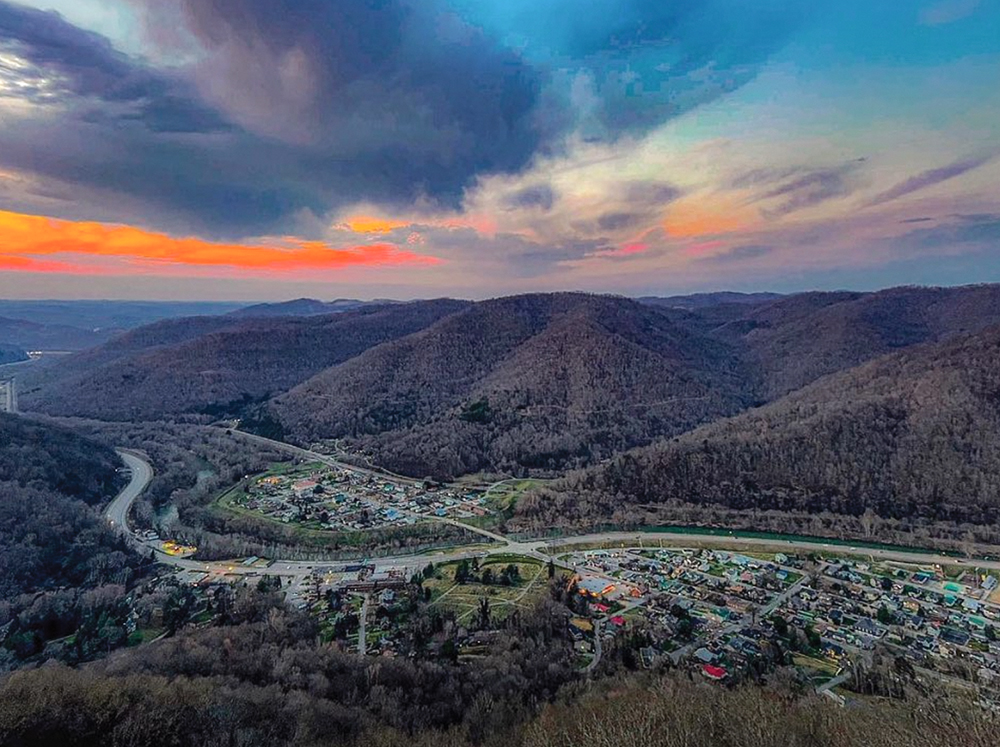 Photo by Peggy Yaeger / Cumberland Gap at sunset
  
Day One: Middlesboro
Built entirely within the impact crater of a meteorite, the Kentucky Trail Town of Middlesboro captures the distinct flavors of The Kentucky Wildlands with such attractions as Cumberland Gap National Historical Park and The Coal House -- a home built only with bituminous coal. Middlesboro is just south of Pine Mountain State Resort Park, Kentucky's historical first state park where you can hike the Chained Rock Trail.
In the Cumberland Mountains, where the borders of Kentucky, Tennessee and Virginia meet, you'll find Cumberland Gap, a natural passageway through the Appalachians and one of Daniel Boone's preferred trails for heading westward.
Places to stay: The Olde Mill Inn Bed & Breakfast, Cumberland Manor Bed & Breakfast or Herndon Evans Lodge at Pine Mountain Park.
What to eat: A Hot Brown at Mountain View Restaurant in Pine Mountain Park or Boom Boom Shrimp Po' Boy at Shades Cafe & Steakhouse in historic downtown Middlesboro.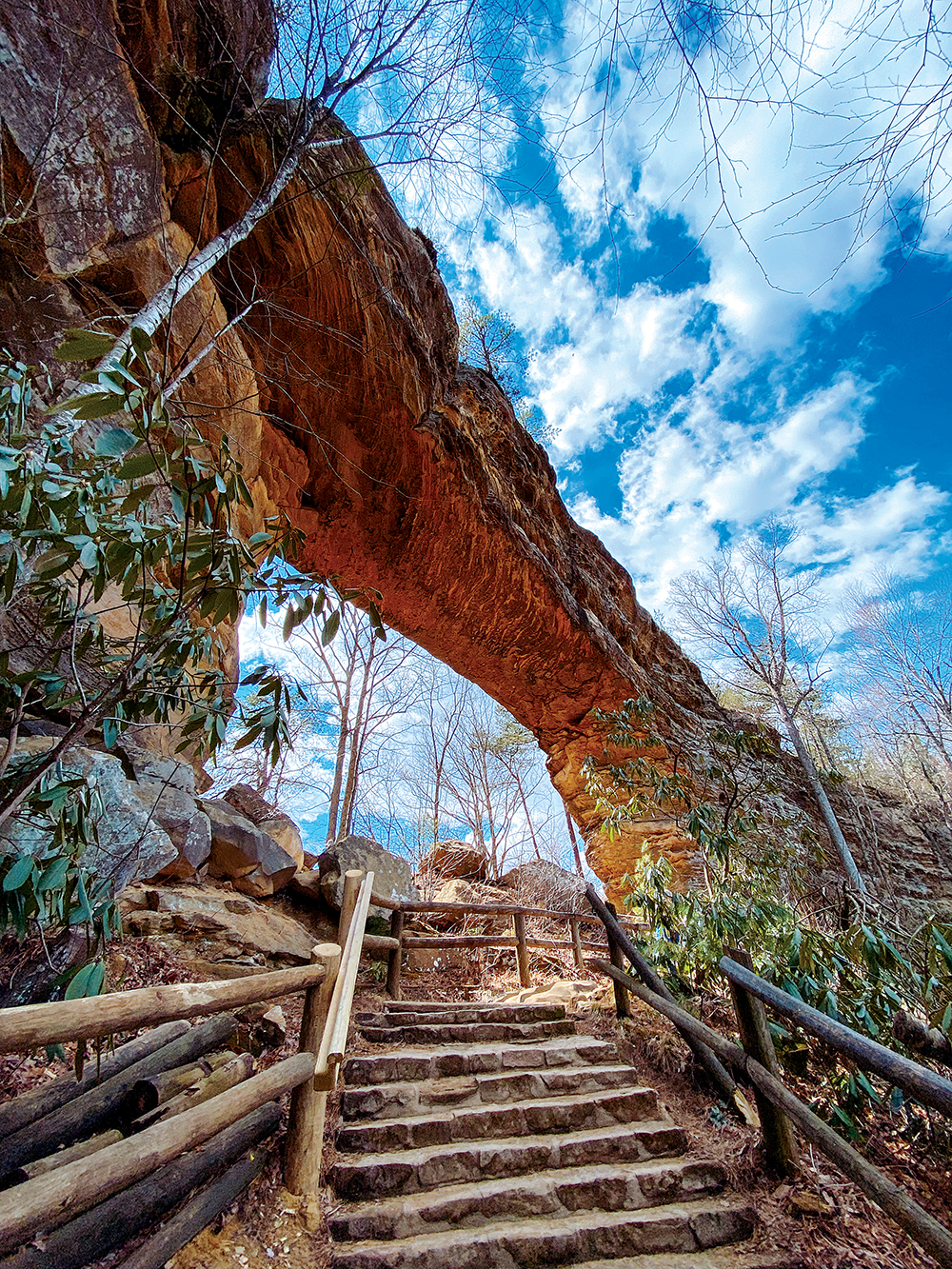 Photo by Peggy Yaeger / The iconic sandstone bridge is a must-see at Natural Bridge State Park.
  
Days Two and Three: Morehead
Morehead is a Kentucky Trail Town that sits just outside of Cave Run Lake. Nestled in the Daniel Boone National Forest, the town is home to Morehead State University, the Kentucky Folk Art Center, Rowan County Arts Center and the Poppy Mountain Bluegrass Festival held every September.
Kentucky's longest trail, Sheltowee Trace, also travels through the heart of downtown. All this in a town that is less than an hour's drive to Red River Gorge.
The Red River Gorge has a lot of distinctions: It's a federally designated National Geological Area, National Natural Landmark, National Archaeological District and is listed on the National Register of Historic Places. As if that weren't enough, the gorge offers spectacular rock features, including sandstone arches and towering cliffs. Visitors can find world-class rock climbing and more than 600 miles of hiking trails, 100 natural sandstone arches and waterfalls.
Bordering the gorge and surrounded by Daniel Boone National Forest is Natural Bridge State Park. Hike the scenic trail or ride the skylift to view the massive sandstone bridge, a centerpiece of the park.
Where to stay: Cabins on Cave Run Lake or cabins in Red River Gorge area
What to eat: Miguel's Pizza, where you can shop for climbing gear, camp for the night and enjoy a hand-crafted pizza; or grab a Heavenly Cheeseburger at the eclectic Red River Rockhouse.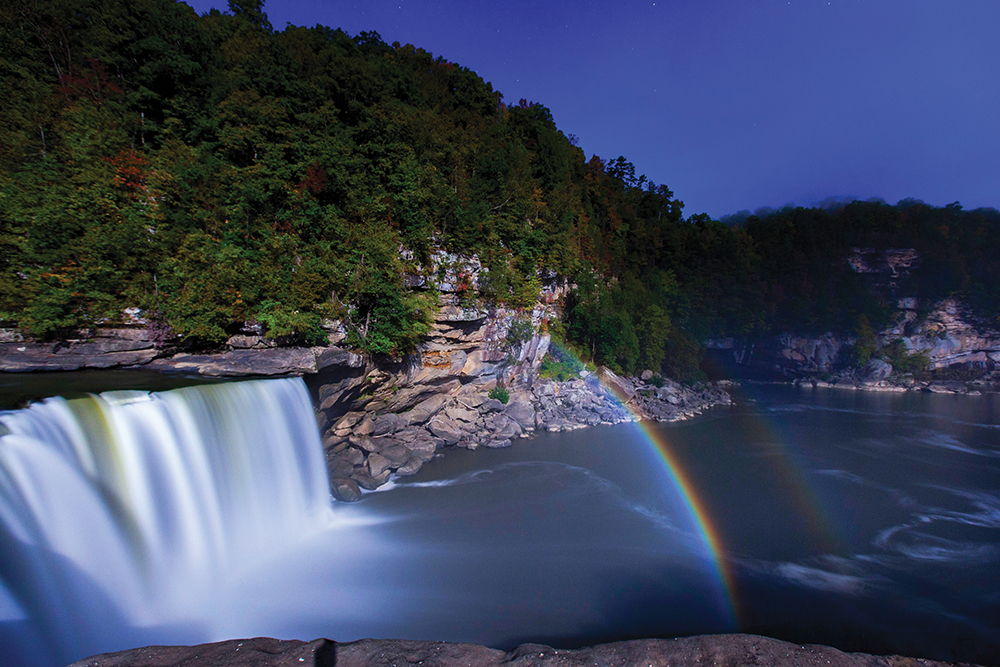 Photo courtesy of Kentucky Wildlands / Cumberland Falls is one of the few places in the world that regularly produces a moonbow. Find the best dates to see it at parks.ky.gov.
  
Day Four: Corbin
Surrounded by the pristine Daniel Boone National Forest, Corbin lies at the foothills of the Appalachian Mountains and is home to Cumberland Falls State Resort Park, a park deemed the "Niagara of the South." It's the site of the only known moonbow existing in the Western Hemisphere. Moonbows are the nighttime equivalent of rainbows but are extremely rare. They occur in March of every year at the park.
Nearby is Colonel Sanders' original restaurant serving Kentucky Fried Chicken -- The Harland Sanders Cafe and Museum where you can get a taste of how Colonel Sanders started his restaurant and see it as it appeared in the 1940s. Experience eating delicious Kentucky Fried Chicken in the Colonel's dining room and take in his innovative open-kitchen design and model motel room. View the exhibits featuring the Colonel's artifacts and memorabilia from the early days of KFC. Fried chicken lovers? This is your place to be.
What else to eat: A Cowboy Rib-Eye at Depot on Main or the Wrigley Royal burger at Wrigley Taproom and Eatery.
To plan your adventure, visit explorekentuckywildlands.com.