Strawberries, art cars and Dolly Parton's wedding are the inspirations behind three of the seven Chattanooga-area festivals this weekend. Meanwhile, the Thrillville Fair has set up in East Ridge for 11 days.
(READ MORE: Robert Plant, Alison Krauss in concert this weekend, plus ways to honor mom)
— Tennessee Strawberry Festival, which includes a nightly carnival, is happening this week in downtown Dayton, Tenn. Food and craft vendors will begin setting up Thursday around the Rhea County Courthouse, 1475 Market St., and a fine arts show will be set up inside. There's a cruise-in 5-10 p.m. Friday. Saturday is a full day of entertainment, with the signature parade starting at 1 p.m. tnstrawberryfestival.com
— Thrillville Fair is ready for action at Camp Jordan, 323 Camp Jordan Parkway, East Ridge, with carnival rides, games, food booths and live entertainment offered through May 21. Highlights include the High Flying Pages aerial show, Sea Lion Splash and Wheels of Agriculture game show. Hours are 5-10 pm. Monday-Friday, 1-11 p.m. Saturday-Sunday. Admission is $10 (free to children 36 inches and under, seniors 65 and older), $30-$35 for unlimited rides. Special admission promotions are offered weekdays. thethrillville.com/eastridge
— We Make Festival includes two days of public events, starting with an Art Car Street Party 7-10 p.m. Friday at Patten Square, 818 Georgia Ave. The night includes music and fire sculptures. Attendees are encouraged to wear their most creative attire — the better to blend in with the bedazzled art cars. On Saturday, the fun moves to Miller Park, 928 Market St., for more art cars, an international food court, art exhibits and live performances. Some of the art cars will be the work of area students, who'll be vying for the Golden Gnome Award, courtesy of Rock City, and a $500 prize. The festival is coordinated by Art 120, named for the 120-mile radius around Chattanooga where the organization promotes art in schools. Events are free, but RSVPs are helpful. eventbrite.com.
— Dolly Days is Ringgold, Ga.'s salute to Dolly Parton, who married Carl Dean on May 30, 1966, at the Ringgold First Baptist Church. Set for Saturday, the festival includes a Dolly Dash 5K, live music, food trucks, a Dolly-themed children's fashion show, karaoke and a look-alike contest. Bonus points if you can guess how long it lasts. (The correct answer is "9 to 5.") nothinlikeringgold.com
— Agora Fest, scheduled 9 a.m.-5:30 p.m. Saturday at the Chester Frost Park pavilion, 7989 Causeway Road, will feature local speakers discussing self-sufficiency, holistic health, organic food, off-grid living, preparedness and related topics. Separate outdoor activities will offer booths, demonstrations and a children's entrepreneur market. Admission is free for the outdoor activities, $60-$90 for the speakers. The cheaper option includes shuttle service from off-site parking. theagorafest.com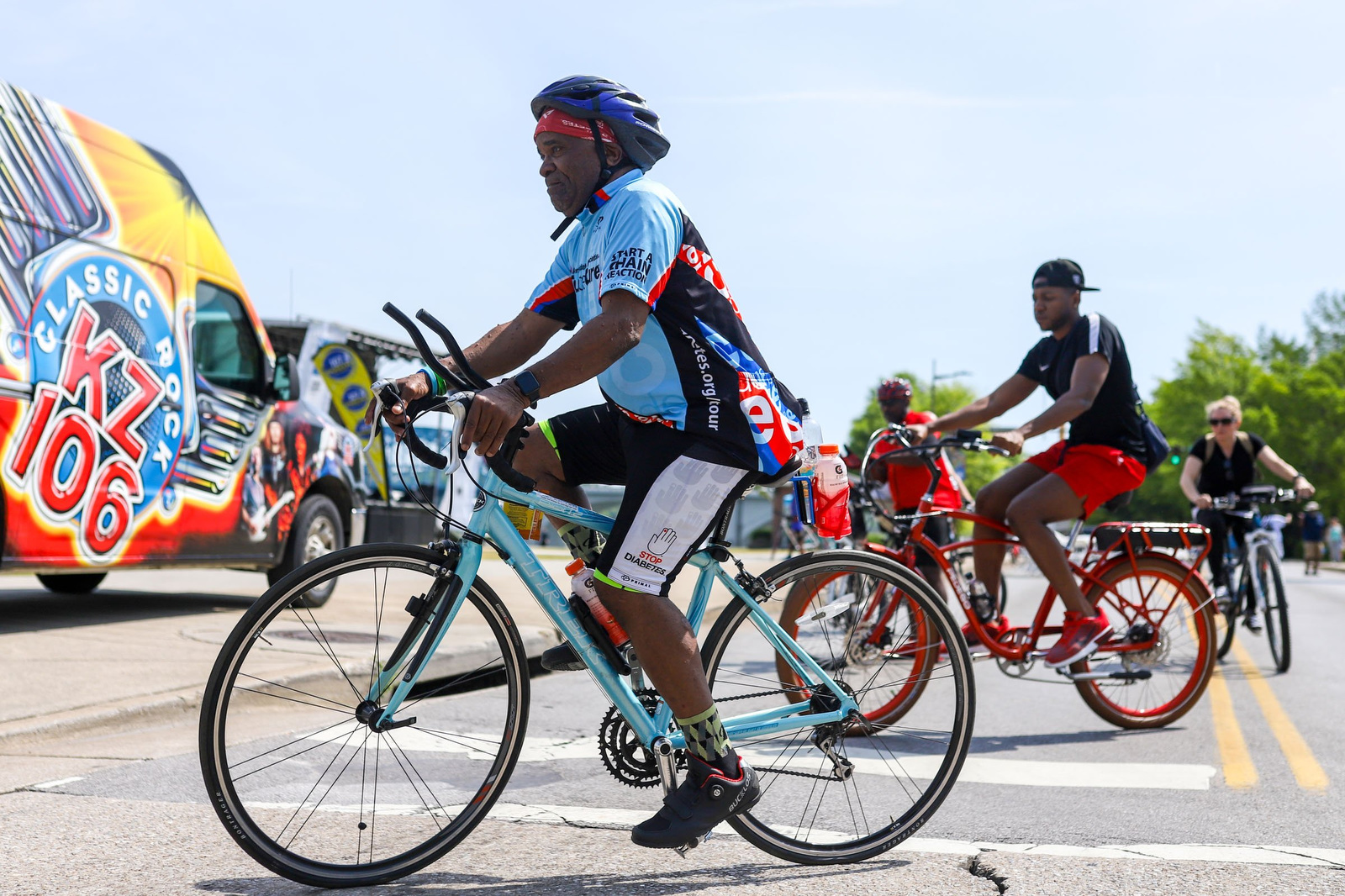 Staff photo by Olivia Ross / Paul Eberhardt takes off for the bike ride on April 30, 2022, for the Walk Run Pedal Jamz Festival.
  — Walk Run Pedal Jamz Festival is 11:30 a.m.-8 p.m. Saturday in Coolidge Park, 150 River St., though the charitable events that give the festival three-fourths of its name will start earlier. The 2-mile run or walk across the Walnut Street Bridge starts at 9 and 11 a.m., respectively, and a 12- or 24-mile bike ride along the riverfront starts at 10 a.m. Participation is by donation to a favorite charity. After the sweat equity, explore the food trucks, vendor tents, children's activities and live music in the park. walkrunpedaljamzfestival.com
— Hike, Bike & Brew Festival starts at 1 p.m. Saturday for hikers and bikers heading out on the "Beer Path loop" at Lula Lake Land Trust. This temporary trail to Lula Lake and Lula Falls will have beer stations along the way. A meadow party, with live music and snacks, follows at 3 p.m. Cost is $75, with proceeds supporting the trust's trail work and conservation efforts. Tickets are limited. eventbrite.com
— Southern Blooms Festival concludes this weekend at Rock City Gardens, 1400 Patten Road, Lookout Mountain, Ga. The festival is a showcase for the 400-plus varieties of native plants and flowers to be seen on self-guided tours through the park. Specialty foods, children's art projects and plants for sale are also included. Hours are 8:30 a.m.-6 p.m. Saturday and Sunday. Admission is $20-$30. seerockcity.com/southernblooms
Contact Lisa Denton at [email protected] or 423-757-6281.