Remembrances for America's fallen are scheduled Monday in observance of Memorial Day. Here's where to take part.
— Chattanooga National Cemetery (morning): The Chattanooga Area Veterans Council will host a Memorial Day observance at 11 a.m. Monday. Parking is at the Tennessee National Guard Armory, 1801 S. Holtzclaw Ave., with shuttles providing transportation. The Choo Choo Chorus will sing patriotic music.
Most of the flags at the graves are thanks to the efforts of more than 300 local Boy Scouts. Amy Phillips, membership executive with the Cherokee Area Council of Boy Scouts of America, said in a phone interview that the project involves multiple troops over several days.
"By the time they finish Saturday, they will have placed about 55,000 flags on nearly 60,000 graves," she said.
Lending an assist are Girl Scout troops and volunteers from businesses such as Amazon, she said.
— Chattanooga National Cemetery (evening): Chickamauga and Chattanooga National Military Park will lead a free torchlight tour through the Civil War portion of the cemetery at 8:45 p.m. Monday. Participants should meet at the old entrance arch on the southwest side of the cemetery. The 1-mile tour will last about 90 minutes. Participants may want to bring a flashlight to supplement the light from the reproduction historical torches.
National Military Park historian Jim Ogden will feature graves and stories of some of the soldiers interred in the cemetery who died in the fighting in the area in 1863. The event is held in recognition of the 160th anniversary of the Battle of Chickamauga and the Battles for Chattanooga.
Memorial Day, originally known as Decoration Day, dates to the aftermath of the Civil War, when people began holding ceremonies and decorating the graves of Union and Confederate soldiers.
Learn more about the event at nps.gov/chch.
Photo Gallery
Memorial Day events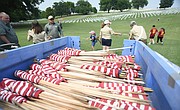 — Soddy-Daisy Veterans Park: Boy Scout Troop 20 will tend a memorial flame in the newly constructed flag retirement monument, an Eagle Scout project, starting at 5:30 a.m. Monday. 
"Then from 8 a.m. till we run out of flags, we are planning on retiring flags (by burning) in the flag retirement monument," Scoutmaster Corey Green said in an email. "Currently we have around 250 flags," he said, so the troop expects to be on-site at least until noon.
The troop also has been asked to lower and raise the main park flag that day, he said. As custom dictates, the flag will be lowered to half-mast before dawn and raised back to full mast at noon.
Veterans Park is at 9009 Dayton Pike.
— East Ridge Community Center: American Legion Post 95 will hold a wreath-laying ceremony at 1 p.m. Monday at 1515 Tombras Ave. Local dignitaries will speak at the observance.
"We'll also have the post honor guard there for rifle firing and playing of 'Taps,'" post Cmdr. David Sherrill said by phone.
— McCoy Farm & Gardens: The venue at 1604 Taft Highway, Signal Mountain, will host a free Memorial Day picnic from 11 a.m. to 3 p.m. Monday that includes singing the national anthem and a salute to the flag and veterans.
Picnic food will be available for purchase. Music will be provided by Betty Julian and local students, followed by the Tin Cup Rattlers and Paul Hendricks. Happinest Wildlife Rehabilitation and Rescue will release a rehabilitated red-tailed hawk. Vendors will have crafts, plants and other merchandise for sale. Learn more at facebook.com/McCoyWalden.
— Ringgold, Ga.: The city's Festival of Flags, honoring the deceased veterans of Catoosa County, is underway along main roads through downtown Ringgold.
In a news release, officials said 2,003 flags and anchoring crosses were installed this year. Flags were raised Monday and will be taken down June 5.
Bugler Steve Price will perform "Taps" in a ceremony at 7 p.m. Monday in front of Ringgold City Hall.
For more information, call Pete Pedigo at 706-866-9089 or Ringgold City Hall at 706-935-3061.
— Wherever you are: The National Moment of Remembrance happens at 3 p.m. local time each Memorial Day. The observance was established by Congress in 2000 to encourage Americans to pause for one minute to remember the sacrifices of those who have died in service to the country.
Contact Lisa Denton at [email protected] or 423-757-6281.