COLLEGE PARK, Ga. — Rhyne Howard isn't willing to rest on her first-year honors with the Atlanta Dream.
Howard made the WNBA All-Star Game and was the league's rookie of the year after being the No. 1 overall pick in the 2022 draft. That was an impressive debut season, but when asked how she wants to be viewed in the league, the 23-year-old former Bradley Central High School and University of Kentucky standout from Cleveland, Tennessee, said she wants more.
Much more.
"I would like them to say that is a one-of-a-kind, like, a generational talent," Howard said Tuesday.
To earn that level of respect, Howard first must help the Dream end their streak of four consecutive losing seasons and return to the playoffs for the first time since 2018. Led by the 6-foot-2, 175-pound Howard, a guard who plays on the wing, the Dream (2-2) played like a team on the rise in Tuesday night's runaway 83-65 victory over the Chicago Sky (3-2), who won the WNBA title two years ago and reached the league semifinals last year.
Howard scored a game-high 20 points, already her third game with at least 20 points this season, while rookie Haley Jones and offseason addition Allisha Gray each added 13 points for Atlanta, convincing Chicago coach and general manager James Wade that the Dream is a team to watch.
"They came out great," Wade said. "They may be the best team in the league. … They're a top-two team in our league."
Howard is clearly the new face of the franchise; Dream coach Tanisha Wright believes Howard is ready to be a face of the WNBA.
Photo Gallery
Rhyne Howard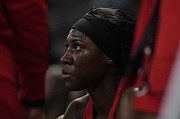 While other rookies, including Jones, need time to earn their place in the league, Howard's impact last season was immediate. She was named rookie of the month for each of the season's four months while starting every game, averaging 16.4 points and setting a rookie record by making 85 3-pointers.
Wright said Howard is a rare elite player whose lead role is clear from their first minutes on the court.
As a senior for TSSAA dynasty Bradley Central, Howard was named Tennessee's Class AAA Miss Basketball and Gatorade's girls' basketball player of the year for the state. After her time with the Bearettes, she was a three-time first-team AP All-American at Kentucky, helping the Wildcats win the Southeastern Conference tournament in her final season.
And after the Dream made her the top selection of the draft, she didn't disappoint.
"Listen, there are players in this league that come in and they're prepared to play," Wright said. "Rhyne Howard, A'ja Wilson, Breanna Stewart, Diana Taurasi, Sue Bird, Swin Cash, Lauren Jackson, right? These are all, you know, Hall of Fame players that came in clearly ready to contribute to their teams.
"But that's not necessarily the norm, you know what I mean?"
Even with her coach grouping her with some of the greatest players in league history, Howard doesn't worry about the expectations that come with her success as a rookie.
"I really don't think too much about it because I don't want to have that on me, because I know nobody else has is putting that pressure on me," Howard said.
Even WNBA All-Stars need help, though, and the Dream have Gray and Cheyenne Parker also averaging more than 15 points per game this season. The continued emergence of Jones, the No. 6 overall pick in this year's draft from Stanford, could make it even more difficult for teams to focus their defenses on Howard.
"I definitely think we're on the rise," Howard said. "We have so much time to improve and grow. But I am excited for what we're going to be doing. We just have to start putting the pieces together."
The dominant win over Chicago provided reason for encouragement.
Wade said attempts to target the versatile Howard were not effective. Howard created space with her step-back move and fadeaway jumper, shooting 8-of-11 from the field, and she also has the size to score near the basket.
"I think she was able to get to her spots," Wade said. "That was one of the things we talked about: We didn't come out with the focus to stop her. Even though she's a talented player, I thought we could have done a better job."
Howard also is attracting attention off the court. She threw out the first pitch — a strike, of course — before a recent Atlanta Braves game at Truist Park and is on the cover of the new issue of Slam magazine.
Wright said Howard has "handled it with a lot of grace."
"She's done great," Wright said. "She carries herself like a pro, as she did from day one coming into our organization. And so I think she's done a really good job of just one, not letting those expectations burden her, because I do think that that happens at times for younger players where they have such lofty expectations or people put expectations on them.
"But she came in knowing who she was and how she can contribute and what she can do and just carried herself in that manner. Nothing too high and nothing too low."