Massey's Kitchen's is cooking on Lookout Mountain, and Civil Provisions and Bar has set up shop on Signal Mountain. The two mountains are roughly 14 miles apart, but they've never been closer than now.
Both restaurants have decided to dive, head first, into the Mediterranean region.
Civil Provisions is definitely a break from what we've previously known about owner Jason Bowers. Daily Ration is a North Shore brunch hot spot where you can build your own avocado toast and shoot Irish breakfast shots. The Bitter Alibi, with those spiral staircases that I love so much, leans heavy into dumplings stuffed with kimchi, bibimbap, bulgogi Phillies and other things that come to mind when you think of Korean food, while the Clever Alehouse has all the greasy stuff synonymous with bar food: sloppy smash burgers and tater tots loaded with a little bit of everything.
Civil Provisions and Bar
Where: 720 Mississippi Ave., Signal Mountain.
Hours: 4-10 p.m. Wednesday-Saturday (Closed Sunday-Tuesday).
Prices: $12 for fried mozzarella to $32 for the grilled steak with herb chimichurri.
Prior to Massey's Kitchen, founder Allen Corey of Square One Holding's pair of restaurant concepts were STIR and State of Confusion. STIR's offerings are vast and aren't really centered around anything in particular. There's everything from spicy tuna bites to steak frites to matcha green tea cheesecake. The same way Corey sent his team on a research and development trip to the Italian cities of Naples and Rome in preparation for Massey's Kitchen, he did the same with State of Confusion. Time spent in Charleston, South Carolina; Peru; and New Orleans directly resulted in the Lowcountry omelet, ceviche and muffalettas.
Photo Gallery
Lookout and Signal mountains both go Mediterranean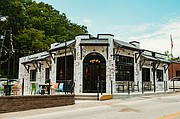 Both Massey's Kitchen and Civil Provisions have feta, because can you really have a Mediterranean-inspired restaurant without feta? The difference is, Massey's bakes its feta, while Civil's is whipped. Both have their own versions of a hummus dish and a house burger. The way Civil dresses its burger with shoestring fries and mayo made with Calabrian chilis is exciting. Both restaurants specifically describe the style of pizza they bake as "Roman."
Massey's Kitchen
Where: 826 Scenic Highway, Lookout Mountain.
Hours: Open 10 a.m. to 11 p.m. every day of the week.
Price: $7.95 for Spanish gazpacho soup to $22.95 for the roasted Moroccan shrimp.
I have no doubt that the higher-ups from both Massey's Kitchen and Civil Provisions and Bar will employ their own methods and philosophies to forge their very own versions of Mediterranean-inspired cuisine. The mortadella melt and shrimp Louie salad sets Massey's apart the same way lamb kofta kebab and spicy Calabrian wings do for Civil Provisions and Bar.
No matter which mountain you choose to frequent or favor, Mediterranean vittles are to be had.
Contact Andre James at [email protected] or 423-757-6327. Sign up for his weekly newsletter, "What to Eat Next," at timesfreepress.com/newsletters.