NASHVILLE — State Rep. Gloria Johnson, D-Knoxville, formally announced Tuesday she is challenging U.S. Sen. Marsha Blackburn, R-Tenn., saying she is in the race "because Tennesseans deserve better."
"Marsha has failed us in her five years in office," Johnson said in a news release. "She's voted against everything from pandemic relief to ensuring equal pay for women."
Johnson gained national recognition earlier this year when she and two other Democratic representatives protested Tennessee gun laws on the House floor following a mass shooting at a private Nashville school. They came to be known as the Tennessee Three.
Rep. Justin Jones of Nashville and Justin Pearson of Memphis were expelled by House Republicans and were later appointed and then elected to return to the Capitol. GOP efforts to expel Johnson failed by one vote.
Johnson said Blackburn has supported tax breaks for corporations while opposing laws to keep life-saving drug prices down.
"She's a danger to reproductive rights, cruel to LGBTQ+ folks, and she refuses to fight for our right to vote," Johnson said. "She's also taken over $1 million from the NRA (National Rifle Association) while refusing to take action on the most basic, commonsense legislation to protect our children from the threat of gun violence.
"We have a senator who stands with bullies, and I have a reputation for standing up to bullies."
Blackburn quickly pushed back in a video posted on social media in which she slammed Johnson, calling her a "threat to our way of life." The senator's video also asked for contributions.
"Folks, it's Marsha Blackburn," the first-term senator said. "I officially have an opponent. She's a far-left Democrat. She's as 'woke' as they come. And she knows all the liberal big wigs in Tennessee.
"Frankly," Blackburn continued, "my opponent is a direct threat to our way of life. So I'm asking you directly to make a meaningful donation to defeat her."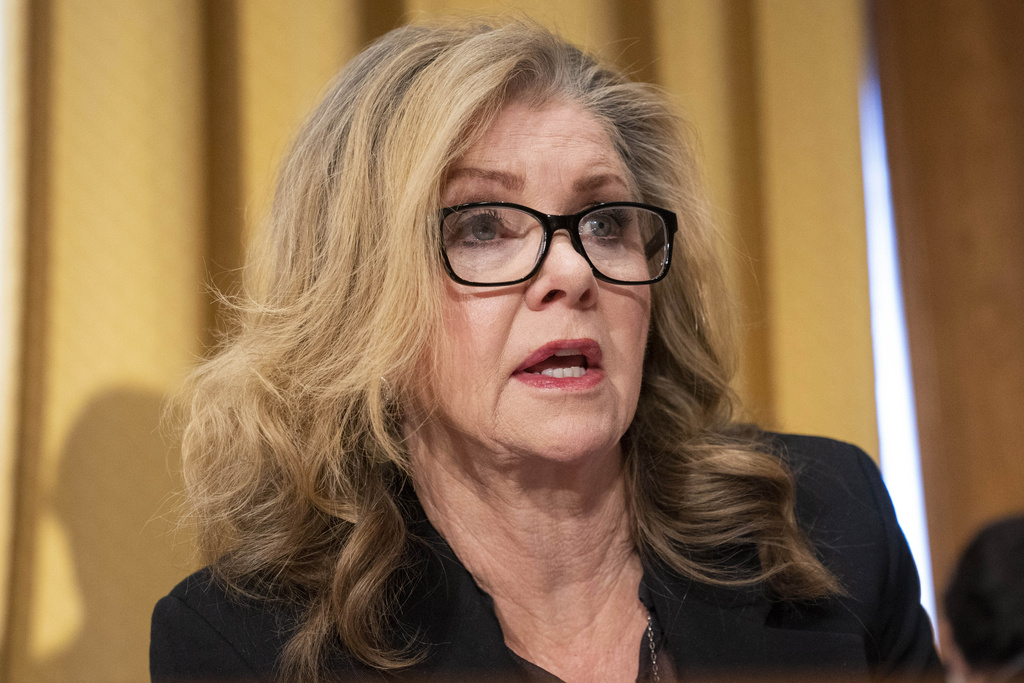 FILE - Sen. Marsha Blackburn, R-Tenn., speaks during a Senate Finance committee hearing March 16 on Capitol Hill in Washington. Tennessee Democratic state Rep. Gloria Johnson announced Tuesday she's running for the seat held by Blackburn in 2024. (AP Photo/Jacquelyn Martin, File)
  
Earlier, Blackburn spokeswoman Abigail Sigler issued a statement.
"It's no surprise that radical socialist Gloria Johnson decided to jump into the race at the urging of liberals in Washington," the statement said. "Johnson is as woke as they come, and she would be a puppet for (President) Joe Biden.
"While Sen. Blackburn is working hard to fight back against Biden's woke agenda, state Rep. Johnson is pushing that divisive, destructive agenda here in Tennessee."
Blackburn said Tennesseans "deserve a United States senator who is committed to fighting for our conservative values."
The senator, who is seeking her second term, defeated former Democratic Gov. Phil Bredesen for the Senate seat in 2018.
"We need somebody that's going to care about Tennessee families and lifting them up and making sure that it's (for) them that we're trying to cut costs and not cutting costs for corporations and billionaires," Johnson said at a campaign event in Knoxville on Tuesday.
Johnson said she wants to make sure Tennessee families earn good wages, have great schools for their children, are able to live in dignity and have the ability to retire.
"Marsha is doing none of those things," Johnson said, according to a transcript of her remarks. "We need somebody whose focus is going to be with Tennessee families."
Shortly after Johnson's official announcement, Blackburn's fellow Tennessee Republicans launched a barrage of criticism at Johnson.
A 'socialist'
Democrat Marquita Bradshaw is also seeking the Democratic nomination to challenge Blackburn. U.S. Sen. Bill Hagerty, R-Tenn., who easily defeated Bradshaw in the 2020 general election, wrote social media, "There are now two socialists challenging @VoteMarsha.
"Make no mistake, either one of them would just be a puppet for the socialist Biden/Schumer agendas," Hagerty wrote on social media, in reference to President Joe Biden and Senate Majority Leader Chuck Schumer, D-New York.
Tennessee Republican congressmen and state legislators unleashed their own barrage.
"@VoteMarsha's track record of delivering for Tennesseans in the United States Senate is clear," posted U.S. Rep. Chuck Fleischmann, R-Ooltewah. "We must make sure she is elected again in 2024."
Tennessee House Republican Caucus Chair Jeremy Faison called Johnson "a radical socialist who would work to destroy our Tennessee values in the United States Senate."
Johnson responded on social media: "Spoken like guy who tried to take another man's pants off in front of children."
That apparently was a reference to a 2022 controversy in which Faison yelled at a school basketball referee and sought to pull the official's pants down. It made state and national news. Faison later apologized, calling it "completely stupid."
"Tennesseans deserve Senator Blackburn's unwavering conservative leadership in Washington, NOT a left-wing socialist," State House GOP Whip Johnny Garrett, R-Goodlettesville, said in a social media post.
Many of Republicans' social media posts included the same smiling photo of Blackburn with a link to WinRed, a GOP fundraising platform.
Tennessee voters have not elected a Democrat to the U.S. Senate since Al Gore in 1990. Gore went on to become vice president under Democrat Bill Clinton. He famously lost Tennessee in his own 2000 presidential bid.
Contact Andy Sher at [email protected] or 615-285-9480.