The off-price retailer Burlington plans to relocate its Hixson store this fall, moving into a smaller storefront that was vacated earlier this year with the liquidation of Bed, Bath & Beyond.
Burlington, the second-largest tenant in the Northgate Mall, is expected to shut down its 63,000-square-foot store at Northgate later this year and move into 24,595 square feet of the Town Center North about a mile down the road on Highway 153 in the shopping center anchored by the Target store in Hixson, according to company officials.
Burlington has operated a store in Northgate for the past decade, and its lease continues at Northgate until 2026, according to mall owner CBL and Associates Properties. CBL "is aware of the relocation of Burlington, but we don't have any details about the timing of their closure at Northgate," CBL Vice President Stacey Keating said in a statement Friday.
Burlington "is thrilled to open a new store in the Hixson community this fall," said Anne Holmes, a spokesperson for the retailer, but she declined to discuss the specific timing or reasons for Burlington's relocation in Hixson.
The manager of the real estate investment firm that bought the Town Center North shopping center last year — Dino Crescentini Jr., — called the new site for the Burlington store in Hixson "an ideal location."
"They like our space and tenant mix better, and Burlington assumed the Bed, Bath & Beyond lease in what was a very quick and decisive move, inking the assumption just three days before Bed, Bath & Beyond formally filed for bankruptcy," Crescentini, the managing partner for Credit Investments and Dino Management Inc., said in a telephone interview last month.
Photo Gallery
Burlington to relocate Hixson store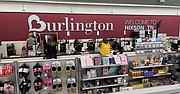 Retail realignment
Cresentini's Las Vegas-based real estate firm acquired the North Towne shopping center on Highway 153 last year for $16.7 million. The 11-acre shopping center was originally developed in 2006 by the Chattanooga-based Wolford Development Co. and is anchored by a Target store.
Only eight months after the new owners bought the center, Best Buy announced it was closing its 20,000-square-foot Hixson store in March, and a month later Bed, Bath & Beyond also announced it was closing its store next door to the Best Buy.
Burlington assumed the lease for the space formerly occupied by Bed, Bath & Beyond. Crescentini's group is actively working to find a tenant for the vacant former Best Buy site, he said.
Vacant stores
Burlington, formerly the Burlington Coat Factory, became one of the largest tenants at Northgate when it moved into the Hixson mall in 2013. But Burlington was looking for a different and smaller footprint, Crescentini said.
"Retailers are being forced to take a harder look at their overall footprint and make these critical adjustments, whether it is for store size or for the type of building and location," Crescentini said. "In today's retail environment, that can be the difference between surviving and not. As a lot of retailers ditch traditional malls, it's been hugely beneficial for us. This Burlington lease assumption is almost like a fresh start."
When Burlington exits Northgate, more than a third of the retail space in the 820,000-square-foot mall will be empty.
Northgate evolves
In an email statement, Keating said CBL regained control of the shuttered Sears and J.C. Penney stores at Northgate last year and is now working on "a multiphased redevelopment plan" for the 51-year-old mall.
"Northgate Mall is a well-located asset in a growing submarket, and we're excited about the prospects for its future evolution," she said. "We are currently evaluating several possible scenarios, but it's too early in the process to make any announcements."
The planned move by Burlington from Northgate to Town Center North comes more than two years after the Applebee's restaurant made a similar move from the mall to the North Town Center shopping center.
Burlington is the second-biggest tenant at Northgate Mall since J.C. Penney's closed its 173,000-square-foot Northgate store in 2014 and Sears shut down its 192,500-square-foot store at Northgate in 2019.
More than three years ago, the former Sears store was pitched to Hamilton County public schools as a possible site to relocate the Chattanooga School for Liberal Arts, but the county ultimately decided to move CSLA from East Brainerd Road to the former Lakeside Elementary School on Jersey Pike instead.
Most of the former Sears store is being leased again this fall for a temporary Spirit Halloween store, which sells a variety of Halloween costumes and decorations leading up to the Oct. 31 holiday.
Burlington, which operates 927 stores in 46 states, has another Chattanooga store at 2521 Lifestyle Way near the Hamilton Place mall. Burlington continues to operate that store.
Contact Dave Flessner at [email protected] or 423-757-6340.