CLARIFICATION: An earlier version of this story should have stated that Sen. Marsha Blackburn, R-Tennessee, has publicly said in the past that she supported exceptions to abortion for rape, incest and the life of a mother.
NASHVILLE — Tennessee Democratic U.S. Senate hopeful Gloria Johnson is criticizing incumbent Republican U.S. Sen. Marsha Blackburn for what Johnson calls the senator's "especially disgraceful" failure to speak out against a colleague who is blocking some 300 high-level military appointments in a stand against the Pentagon's abortion policy.
The lawmaker, U.S. Sen. Tommy Tuberville, R-Alabama, has been placing holds on President Joe Biden's military nominations since February after the Department of Defense implemented the new policy following the U.S. Supreme Court's overturning of Roe v. Wade in 2022.
Tuberville has said he won't relent until the Senate holds a vote on the policy implemented by Defense Secretary Lloyd Austin for service members living in states with abortion bans or restrictions. The policy provides funding for travel when a service member goes out of state for an abortion or to receive other reproductive care. Tennessee has a near total ban on abortion.
"Tommy Tuberville is aiding and abetting foreign dictators who hate America and target our troops," Johnson, who formally announced her candidacy last week, said in a text to the Chattanooga Times Free Press. "He's betrayed our military for political points, and Blackburn's continued silence on the issue is especially disgraceful when too many troops call Tennessee home."
Blackburn campaign spokesperson Abigail Sigler blasted Johnson's comments and stances.
"Gloria Johnson is so woke she wants abortion on demand up until the moment of birth, and even after," Sigler said in a statement. "The Democrats and DoD (Department of Defense) could call for an individual vote on any of these nominations, but they have chosen not to because they don't want to discuss the policy. Giving free annual leave — all expenses paid — for an abortion, but not for the death of a family member is one of many examples of how the military has been politicized. State Rep. Johnson would work alongside (Senate Majority Leader) Chuck Schumer to make the military woke."
Johnson, who formally declared her candidacy Tuesday, hit back.
"Breaking news: Corrupt Marsha Blackburn lies. Again," she stated in a text to the Times Free Press. "Marsha believes rapists have the right to choose the mother of their child and that pregnant women who are dying shouldn't be able to choose their own life.
"My record is clear: I support women to make health care decisions without interference from radical politicians like Marsha," Johnson said.
Blackburn's campaign pushed back on Johnson's assertions, saying the senator has supported exceptions for rape, incest and life of a mother, citing several instances where Blackburn has stated that or included it in legislation she has sponsored.
Among them was a 2019 interview with WTVC News Channel 9, where Blackburn was asked about Alabama's just-signed law making it a crime for doctors to perform an abortion at any stage of pregnancy, including instances of rape and incest. The law provided only an exception if the woman's life is threatened or there is a lethal fetal anomaly.
"I have always supported allowing rape, incest and life of the mother as exceptions in abortion," Blackburn told the station.
As a legislator, Johnson has supported abortion rights and opposed Tennessee's near total ban on the procedure, which passed the Republican-led General Assembly in 2019. It took effect in 2022 following the U.S. Supreme Court's ruling in Dobbs v. Jackson Women's Health Organization, which overturned the high court's 1973 ruling in Roe v. Wade.
Johnson told her personal experience as she fought unsuccessfully to pass her own broader legislation. She described in committee how she discovered after she became pregnant at age 21 that she had an aortic aneurysm. Johnson said her doctors told her it could rupture before the fetus was viable and the fetus would be harmed by treatment, she told a House GOP-led panel.
"If we had the current trigger ban in place, I wouldn't be here today," Johnson said. "I wouldn't have been able to make the decision that I had to make, as a young person who wanted to start a family. But I could not and be healthy and survive with an aortic aneurysm."
Johnson also spoke to the issue when formally announcing her Senate bid last week.
"We got to talk about the fact in Tennessee women are no longer equal, young girls will be forced to carry a pregnancy from a rapist. That's what people are saying," Johnson said, criticizing Blackburn for supporting a federal abortion ban.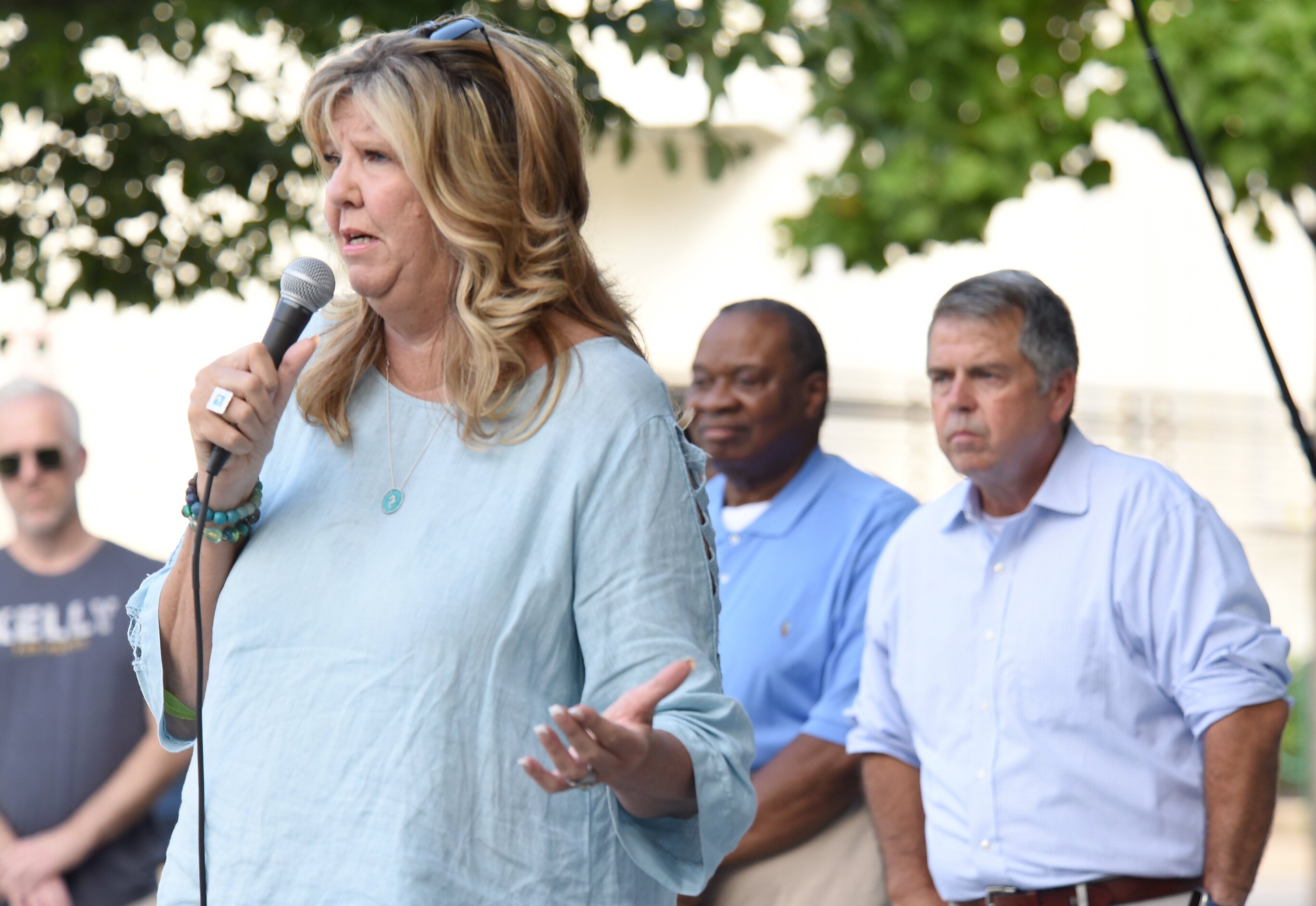 Staff photo by Matt Hamilton/ State Rep. Gloria Johnson speaks during a rally stop for a gun reform bus tour in Miller Park on Aug. 16.
  
Amid concerns that Tennessee's law put doctors at risk of being prosecuted in emergency situations, lawmakers this year passed a bill by Rep. Esther Helton, R-East Ridge, to create two narrow exceptions to the law to protect physicians seeking to save the life of a mother. The other allows the procedure in cases of ectopic pregnancies.
The Department of Defense has a major presence in two Tennessee locations. The U.S. Air Force has Arnold Air Force Base in Franklin and Coffee counties as well as the Arnold Engineering Development Complex, which provides developmental test and evaluation capabilities for systems required to meet the demands of the National Defense Strategy.
Meanwhile, the U.S. Army's Fort Campbell straddles the Tennessee-Kentucky border near Clarksville, Tennessee, and Hopkinsville, Kentucky. Home to the 101st Airborne Division and the 160th Special Operations Aviation Regiment, Fort Campbell is home to one of the largest air bases in the world.
A Tennessee-based Air Force official said Tuberville's appointment holds are not affecting operations here. Efforts to reach Washington-based U.S. Army officials regarding Fort Campbell were unsuccessful Friday.
Tuberville has said he will lift his holds — the list includes the Army and Navy secretaries and the commandant of the Marine Corps, where holdovers or unconfirmed heads are in place — only when the Pentagon rescinds the abortion policy.
"My holds are not affecting national security, no matter what national pundits are saying," Tuberville said in a recent social media post. "@SecAFOfficial, @SECNAV, and @SecArmy would rather attack me in a newspaper than have an actual conversation. Just another example of woke propaganda."
Tuberville followed up with a video posted on social media saying there's "no threat to readiness."
"And it disappoints me, some of the language that they use, because I am a United States senator," he said. "I would never say anything like that about them in the newspaper. This should not be played out in the newspaper. If you need to visit with me, call me or come see me. They know where I'm at, and they have not done that. I've not talked to any of them about this.
"It just goes to show you this is all propaganda that's been carried on by the secretary of defense and the president of the United States, saying y'all got to start putting pressure on this senator," Tuberville continued before adding, "They don't know what pressure is."
Tuberville also said Democrats can choose to bring nominations for the positions one by one but not pass them en masse.
Navy Secretary Carlos Del Toro last week charged Tuberville was "aiding and abetting communist and other autocratic regimes" by not allowing nominations to proceed.
Schumer, D-N.Y., last week wouldn't say if he would bring Air Force Gen. CQ Brown Jr.'s nomination for chair of the Joint Chiefs of Staff up for a standalone vote with current Chair Mark Milley scheduled to leave at the end of September.
"The bottom line is this is a problem created by Republicans, and it's up to them to solve," Schumer told reporters, NBC News reported. "Sen. McConnell, Sen. Thune have said they disagree with Tuberville. It's now up to the Republican Party to get him in line. We're not going to shift the burden to Democrats when this is a Republican-caused problem."
Sen. Mitch McConnell, R-Kentucky, is the Senate minority leader. Sen. John Thune, R-South Dakota, is Senate minority whip.
Johnson formally announced Tuesday she is running for the Senate seat now held by Blackburn. The retired eduator is a representative in the state House.
Johnson, 61, and two other Democratic representatives catapulted into the national news this spring after they conducted an impromptu House floor demonstration in a protest following the deadly assault at a private Christian elementary school in Nashville in which three 9-year-olds and three adults were killed. The representatives came to be known as the Tennessee Three.
Rep. Justin Jones of Nashville and Justin Pearson of Memphis were expelled for decorum violations, and Johnson held onto her seat by one vote. Voters have since returned Jones and Pearson to office.
Johnson faces Marquita Bradshaw in the Democratic primary.
Blackburn, 71, a longtime Brentwood Republican who served in the Tennessee Senate before winning a seat in Congress and then the U.S. Senate in 2018, called Johnson a socialist in a fundraising email as well as a "direct threat to our way of life."
Contact Andy Sher at [email protected] or 615-285-9480.