Remember the scene from "Titanic" when Molly Brown, played by Kathy Bates, scrubbed the smut and squalor off Leonardo DiCaprio's character, Jack Dawson, by letting him borrow her son's tuxedo? This is what Marcus Willis and Barque have done to the bologna sandwich.
Bologna in America has the reputation of being lowbrow, the last resort of all cold cuts. I've heard people say that even though it's spelled like the Italian city of Bologna, there's a reason why it rhymes with "phony." It's even considered an insult when somebody refers to another person as being "full of baloney." Back in elementary school, it's what your mama packed in your lunchbox for the field trip to the aquarium because it was cheaper than roast beef, honey baked ham and sliced turkey breast.
Nowadays, I can afford the finest mortadella the world has to offer, but nostalgia always settles in. I end up hovering over a stove, frying three slices of red-ringed bologna in a hot buttered skillet, always poised for when heat starts to make the slices dome. That's when I jab each slice with a fork and let the steam spew from the holes. Once nice and fried — borderline charred — the bologna gets a few squirts of yellow mustard before being sandwiched between two slices of regular white bread. (Shady's Corner has a more primitive version of this sandwich for $3.)
Smoked bologna sandwich
Where: Barque BBQ, 2309 E. Main St.
When: 11 a.m. to 7 p.m., Tuesday through Friday
How much: $9.99
Call: (423) 206-9750
To their credit, folks in Oklahoma are no strangers to smoked bologna. It's so ubiquitous there, they've lovingly nicknamed it "Oklahoma Tenderloin" and "Oklahoma Prime Rib." Elmer's BBQ in Tulsa has had a smoked bologna sandwich on its menu for decades, and Earl's Rib Palace serves its hickory smoked bologna sandwich at five locations in and around the state capital, Oklahoma City.
At Barque, Willis — who hails from Austin, Texas — pointed to nostalgia as the inspiration for the smoked bologna sandwich.
"I've always been a big fan of bologna in general," he said. "It's comfort food for me. A fried bologna sandwich on some white bread with mayonnaise is one of my favorite things to eat in the world."
There are a handful of other restaurants in Chattanooga that also bestow smoked bologna sandwiches upon the city and its suburbs. Good Eats BBQ calls its sandwich a burger. Mike's Smokehouse has one, and so does Highway 58 BBQ, Sweeney's and Forkers BBQ. Even Puckett's introduced its version last April. I respect all of these sandwiches and their creators for contributing to the advancement of bologna.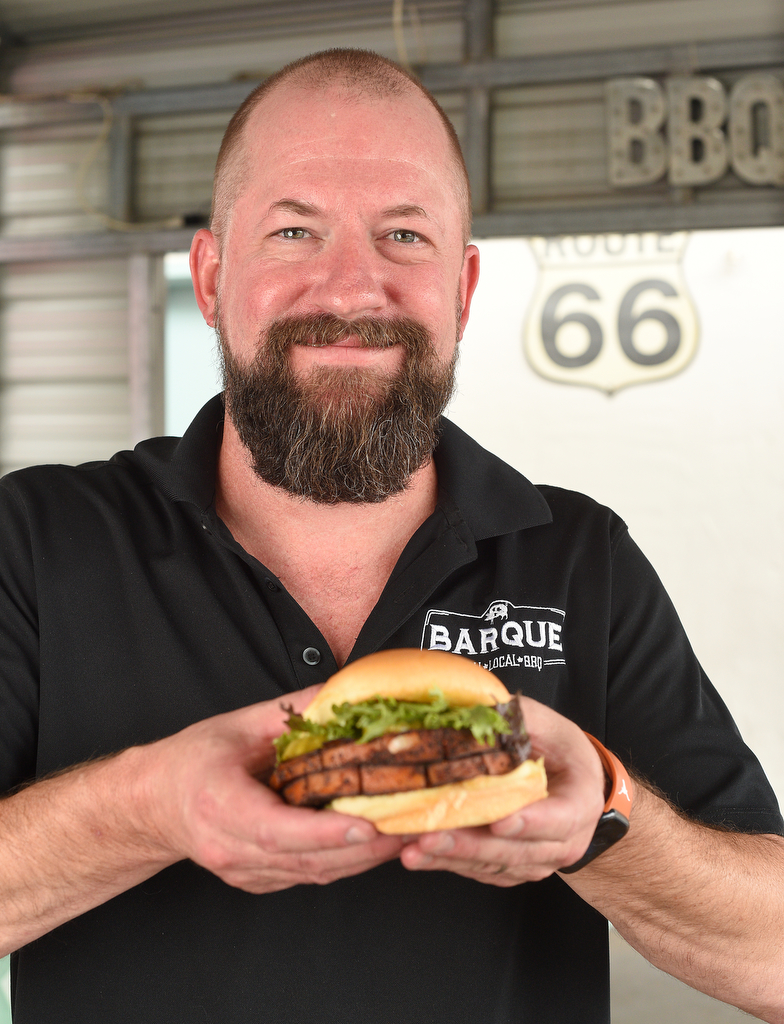 Staff photo by Matt Hamilton/ General manager Marcus Willis holds the smoked bologna sandwich at Barque on Friday.
  
At Barque, I realized before we ever spoke that Willis didn't skimp on the curation of the smoked bologna sandwich at Barque. I had the feeling that the craftsmanship and care he gives to the ribs and brisket isn't spared when it comes to the bologna.
"We try to focus on quality ingredients, and I thought bologna had a place here, especially if I treated it right," Willis said. "So I got the best bologna I could get my hands on. We wanted to elevate it as much as we could. We did some experimenting with it, and it went through different incarnations before we finally landed on the sandwich we have now."
To start with, the folks at Barque score the 10-pound log of bologna, the same technique one does with a spiral ham for Easter.
"We score it with a knife so the smoke will penetrate deeper, then we just rub it with a little bit of mustard and our pork rub before smoking it for about four hours, using a blend of hickory, post oak and mesquite wood," Willis said. "You end up getting that nice bark on the outside, but it's still juicy and delicious on the inside."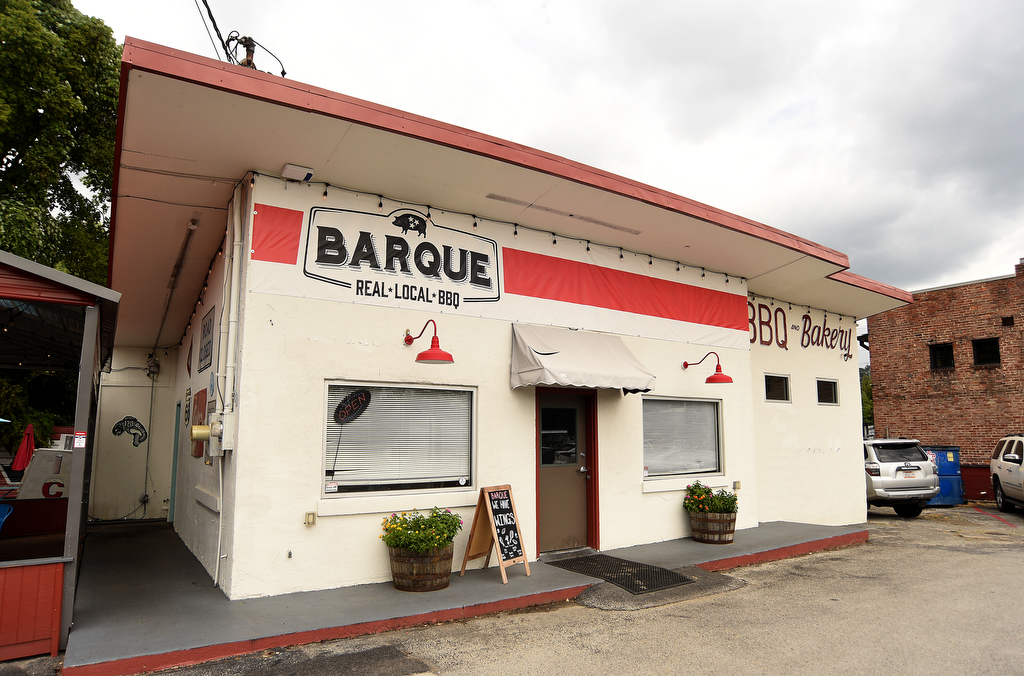 Staff photo by Matt Hamilton/ Barque is seen on Friday.
  
When it comes to condiments and adornments, nothing is wasted, and everything serves a purpose for the greater good of the sandwich. This may seem trivial to nonfood nerds, but the fact that he specifically uses Duke's mayonnaise told me all I needed to know about how serious Willis was about this sandwich. For the uninformed, Duke's mayonnaise has a cult following so intense that people have tattooed the jar on their forearms and thighs. (I've even pondered on ordering Duke's giant jar pool floatie from the website).
"You have the sharpness of the raw onion, the acidity of the mustard and pickles, the creaminess of the mayonnaise and the heat from the hot sauce that's seared into both slices of bologna," Willis said. "Even with the bun, we use a potato roll, which has a little extra sweetness to it and adds balance to the salty and smokiness of the bologna.
"You want to hit every part of the palate with each bite," Willis continued. "One of the things I wanted to do here was change people's perceptions of what barbecue is and could be. I didn't want to just throw together a bologna mayonnaise and cheese sandwich. You can make that at home."
Barque has made a smoked bologna sandwich that hits on all cylinders (pun intended). Big ups to Willis for giving bologna the artisanal touch it deserves and upgrading it to the status of a first-class meal.
Contact Andre James at [email protected] or 423-757-6327. Sign up for his weekly newsletter, "What to Eat Next," at timesfreepress.com/newsletters.