Editor's note: This story was updated on Sept. 19 to correct an error in the reference to where the Easy building name originated.

After suddenly shutting down his accounting firm last week, Chattanooga businessman Jonathan D. Frost has put the office building where Croft & Frost operated on the market.
Frost is asking $10 million for the 30,000-square-foot building, which is less than a third occupied since Croft & Frost closed its third- and fourth-floor offices in the building last Tuesday and laid off the last of its more than 30 employees.
The property listing also includes two adjacent lots, including the site of the former T-Bones Sports Cafe, which was bought last year for $1.6 million by a Frost real estate partnership known as Chestnut Properties LLC, according to Hamilton County property records.
Photo Gallery
Frost seeks buyer for downtown office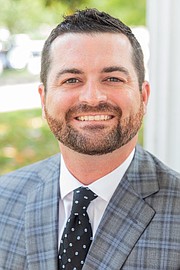 The four-story office and retail complex at 1413 Chestnut St. was built by Frost in 2018 and was named "Easy" after the "Big Easy" nickname of Frost's maternal grandfather, Elijah Sadler of Hixson. The building has four tenants occupying 9,000 square feet over the first three floors of the structure, according to a listing of the property posted Friday by Keller Williams Realty.
Among the building tenants are two home furnishings and design businesses owned by Jonathan Frost's wife, Lindsey, as well as the Amada Tapas & Wine restaurant and bar on the first floor and law offices on the second floor. Frost, who is called "Frosty" by his friends and colleagues, also had a third-floor room in the building for his weekly video podcasts called "Morning Frosty with CT."
"It's a beautiful building with great finishes, and the offices are as nice as any in Chattanooga," Joe Pleva, a real estate agent for Keller Williams, which is listing the property, said in a telephone interview Monday. "It's close to downtown, close to Finley Stadium, and it is across the street from an apartment complex, which has some of the highest median incomes of any apartment complex in Chattanooga."
Frost could not be reached Monday, but his CPA firm, J.D. Frost & Co., which operated over the past year as Croft & Frost, shut down the business and closed its doors last week after the accounting firm had struggled to make payroll consistently in recent weeks.
The Tennessee Department of Labor and Workforce Development, which received three complaints from employees who said they were not paid as promised, is investigating the CPA firm, agency spokesman Chris Cannon said last week.
(READ MORE: Months before its fall, Croft & Frost paid employees in unusual manner)
In a statement issued Monday, the state association representing Tennessee accountants, the Tennessee Society of CPAs, said the sudden shutdown of Croft & Frost, which came only three days before a quarterly tax filing deadline "is an unusual situation and is not representative of the stability of the CPA profession.
"TSCPA would like to extend support to those affected by the firm's closure," the association's communication director, Aleshia Garrett, said in a statement. "Any individuals or businesses assessed late filing penalties after filing their return may be able to request a reasonable cause abatement due to the sudden closure of Croft & Frost. Those affected should discuss this with a CPA to determine if they are eligible to file for abatement."
Clients of Croft & Frost seeking assistance in order to meet regulatory and compliance deadlines may call the group at 615-377-3825 or visit bit.ly/CPAfirms for a referral.
"There are over 1,700 active CPA firms in Tennessee, and many have a long, successful history of building and supporting businesses of all sizes in communities across our state," Garrett said.
Contact Dave Flessner at [email protected] or 423-757-6340.