One day, recalled the businessman Paul T. Croft in 2021, a top salesman at his Chicago-based firm, Croft Enterprises, told him of a man visiting town.
The visitor reportedly looked like Croft, drove a Maserati like Croft, and even had a name like Croft.
The top salesman thought Croft might hit it off with Jonathan D. Frost, the Chattanooga accountant.
"I go, 'I don't want a business partner,'" Croft recalled saying. "'No way.'"
Still, as Croft recalled in the episode of the duo's YouTube series, "The Rhino Zone," he and Frost did speak. And Frost agreed with him that even in this initial chat, they established a "vibe" — a concept they would codify as a core value as they joined forces in an effort they said would transcend the accounting business.
In the coming years, it was a vision the duo would tout extensively on social media, marketing materials and at conferences, as they projected personal brands around a rise-and-grind ethos of constant hustle, ostentatious wealth and bold financial maneuvering, selling their firm as the "entrepreneur's back office."
Early this month, their endeavor crashed after months of failing to meet payroll.
The partners would promise employees big deals ahead if they could wait for delayed paychecks. One time, they used a separate firm to pay their employees in a dubious payment scheme. Then Croft and Frost laid off all their employees, leaving the fate of other enterprises — such as their green energy company Rhino Onward International — in question.
Also left unclear was the future of the three-plus year partnership of two businessmen who united in the belief that with a maverick spirit and wisdom accrued through difficult seasons of life, they could find the unseen financial value in clients' pasts and help their followers find freedom via the entrepreneur within.
To this end, other core principles the men agreed upon were "value" and "collaboration," though for Croft, this was only worth doing when the people coming together were titans; you don't collaborate with somebody if it's just one plus one equals two, he said.
"One plus one has to equal eight," he said. "It has to be an exponential equation in order for a collaboration to make sense."
Frost agreed.
"That collaboration really starts to bring something very unique that clients haven't experienced before, our team members haven't experienced before, even our partners in business — our vendors — haven't experienced before," he said.
Frost cautioned, however, that collaboration only works when the vibe is right.
"How," Frost asked, "are we going to make one plus one equal eight in every situation?"
Secret sauce
Accounting firms seek, among other things, to help clients legally pay less taxes. Yet Frost, a certified public accountant for well over a decade, has said that if you show four accountants a tax return, they'll do it four different ways.
There is some truth to this statement, two certified public accountants told the Chattanooga Times Free Press.
Different accountants have different risk tolerances, said Jim Vaughn, a Chattanooga CPA and a partner with the accounting firm Mauldin & Jenkins.
"There's clearly some things that are gray," Vaughn said in a phone interview, adding that good accountants can advise clients about the risks of a given tax maneuver. "There's clearly some things that are wrong. Some people are a little more aggressive with their tax strategies."
Vaughn said there is room for innovation. Many firms engage in work that goes beyond that done by a "traditional" CPA. Some consult on government, or cybersecurity. Vaughn's firm has an information technology advisory component.
"Everybody in business is trying to find a competitive advantage," he said. "Whatever you found that to be, that could be somebody's secret sauce."
'White knuckling'
Frost did not respond to a request for comment. But in a series of YouTube videos he made about his life, the CPA — whose father and grandfather were CPAs and have operated Tuftco Inc. in Chattanooga for decades — described his early experience in the accounting industry as a disappointment.
Around 2005, he said, he was working for a public accounting firm, studying for the CPA exam and completing his master's. He said he was working hard and late and not getting much in return.
"No matter how hard you worked, no matter how much business I brought into the company or developed," he said, "I was still paid the same, and it felt like everybody else was still making more money — at least the partners."
He said his request for a raise was rejected.
"And for me, that was my answer," he said. "I didn't need to hear anything else. I wanted to control my own destiny. I wanted to build a firm that didn't say no and a firm that was going to be different."
A little over a decade ago, when he was in his late 20s, Frost registered J.D. Frost & Co. with the state of Tennessee. Yet as he set off on his own, he didn't have the mentors and business coaches he would later develop, he said. Things weren't going as planned.
"After about four or five years of running the accounting firm as JD Frost & Company, I basically recreated the firm that I came from because that's all I knew," he said.
He felt stuck. And his personal life was not going well either. He thought it was a normal thing for CEOs to do their job then head to the bar after work every day, he said. But soon he was drinking too much and doing drugs, he said, because he didn't know who he was and didn't know what he wanted.
In 2017 he tried "white knuckling" sobriety. It didn't work. He came to think overcoming drinking was impossible. Then God and his wife both made interventions, he said. And he went to Alcoholics Anonymous.
"The best thing about accounting is that it always balances," Frost said. "There's always an answer. And the cool thing about AA is that there is an answer in that procedure, in that system."
Growth-Con
In 2018, Frost said, he got sober — and he went to Growth-Con.
The gathering in Las Vegas was organized by Grant Cardone, a swaggering social media influencer, author and podcaster who describes himself as "the world's No. 1 sales trainer."
Frost said he had an epiphany and was motivated anew to create the revolutionary firm he had envisioned.
Frost read Cardone's books, like "The 10x Rules: The Only Difference Between Success and Failure." He was struck by Cardone's openness about his own struggle with drugs and alcohol.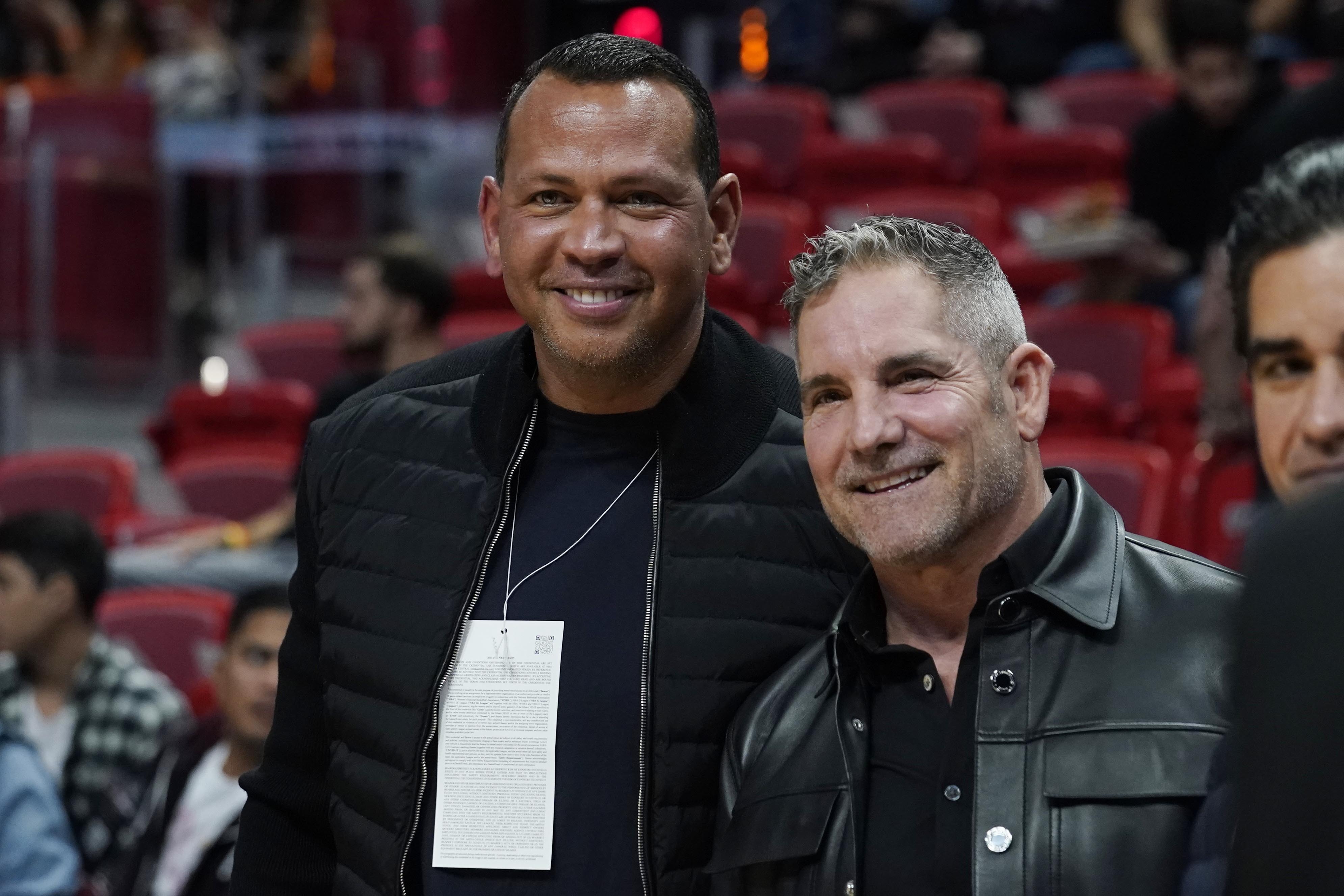 Alex Rodriguez, partial owner of the Minnesota Timberwolves NBA team, left, and real estate developer Grant Cardone pose before the starts of an NBA basketball game in 2022. Cardone's success seminars were an inspiration to Jonathan Frost. (AP Photo/Marta Lavandier)
  
Other initiatives were afoot. That year, Frost was building a new 20,000-square foot building on the 1400 block of Chestnut Street, and the Times Free Press reported at the time, he had 31 employees and said they planned to grow. At this time, he was also producing a podcast of his own.
(READ MORE: Frost seeks buyer for downtown Chattanooga office)
But the challenges continued. In 2019, as one employee recalled, Frost had a "divorce" with his business partner Ryan Hood, who went to start a new accounting firm and took some tax specialists and clients with him.
Hood declined to comment for this article. But Frost on his YouTube channel said breaking up with his business partner was probably one of the hardest things he's ever been through.
"Recovering from that and overcoming that and losing the relationships that I lost and losing the friendships that I lost and the partnerships outside of that partnership that I lost during that time caused me in November of 2019 to just start writing my goals down twice a day," he said. "I was like, this is what Grant said was the thing to do, the separator of those that are successful and not successful."
This, Frost said, was the beginning of the daily ledger, a system he has developed which evolved to see him writing down everything from his goals to the scripture he has memorized each week to the people he has prayed for.
"It just keeps evolving into this system that changes me on a daily basis, and the more that I focus on changing me — it's amazing what happens to the people around me," he said on YouTube. "They don't necessarily change, but my perspective changes."
Paul Croft
Croft did not answer several questions posed to him by email, but, like Frost, has left an extensive online footprint. On "The Rhino Zone," Croft recalled his early chats with Frost, comparing his own behavior to the movie "How to Lose a Guy in 10 Days."
Croft sometimes used "frost" as an idiosyncratic slang term, and in the conversation riffed, he said, about how someone could "frost" a watch by putting diamonds on it or encouraging people to "frost" themselves.
"I'm going on like that on the phone, and the good news is, I didn't lose you," Croft joked. "You're still here."
Frost has described Croft as a compelling storyteller. On "The Rhino Zone," Croft, who sold life insurance for years, recalled a difficult moment around 2015 when an associate convinced him to upgrade his old Acura to a Maserati. He did this, only to learn that he had a tax lien against him for tens of thousands of dollars. He knew he had some tax debt — an accountant had tried to get him a deduction he was ineligible for, he said — but the lien, he said, was news to him.
He said he still bought the car but decided for a period at least he would eliminate his debt by selling his home and another investment property and move to the Cayman Islands for a couple of months to reset.
"This is where my story gets so cool," he said.
He went swimming in perfect temperature water and saw many colorful fish. He thought back on a bookmark his mother had given him for his Bible when he was 2. It said "Paul" on it," he said, and it defined what Paul meant: "small — but large in the eyes of God."
Thinking back on this bookmark as he prepared to emerge from the water, Croft said he thought to himself, "Man, in the grand scheme of things, I'm so small."
He popped out, had a cocktail with whipped cream, and reflected. The moment, he said, changed his life. Soon he said, he was making millions. In a biography document on his personal website, he said his net worth is more than $700 million.
Around 2019 he registered Croft Enterprises in Illinois, as well as several other limited liability companies oriented toward entrepreneurs, including Rare Enterprises, Emerald Life Insurance and Golden Croft.
In one video on YouTube, Croft traced his attraction to Chicago to a day he visited when he was younger, thinking of studying accounting or engineering. Then he saw a shirtless man with sunglasses driving an old H1 Black Hummer on Lake Shore Drive.
"I thought, 'This guy is not a school teacher, he's not an engineer, he's not an accountant, he has freedom of his decision making and what he wants to spend his time on during the day,'" Croft said. "'I wanna be that guy.' And that inspired me, and that has never left me."
Collaboration
The merger happened gradually but was well under way by early 2020, by which time J.D. Frost & Company, Frost said, had become a vertical in Croft's firm. At this point, the men were honing their messaging. In one YouTube video for Croft Enterprises posted around this time, a woman asked a man off-screen what his biggest expense was.
The man said it was his mortgage.
"I challenge you to think about that because your taxes are your biggest expense," the woman replied. "Now I'm not making any promises, but what if there was a way I could show you how to save up to" — she does some calculations on a phone and turns it to show the iPhone calculator application — "$30,000 on your income taxes?"
Croft Enterprises, she went on, looked at taxes in an innovative way to drive investments, and as the entrepenur's back room, it provided other services to help protect the savings.
On May, 7, 2021, J.D. Frost & Company took on a new assumed name in the state of Tennessee: Croft & Frost. And the firm, former employees say, seemed to be moving increasingly into the business of putting on conferences, or charging clients to join communities that granted them special access to experts, like Frost.
The model seemed to have great appeal to Frost. In one video, Croft recalled getting a call from Frost asking if he wanted to attend an event with Cardone, the financial influencer.
Croft said he had spent one or two thousand dollars here or there on things like cigars clubs or networking cubs. He asked Frost if the cost for the two-day affair, which he said was $150,000, was worth it. Frost, Croft recalled, said it would be good for their partnership. And Croft recalled saying he was in — an example, he said in his video, of his quick decision-making instincts.
Tax strategy
In April 2020, the California businessman William Bush said he was contacted by an associate at Croft Enterprises through an acquaintance he had previously met at a Las Vegas business convention.
Bush has not responded to a Times Free Press phone call or email. But in federal court documents filed in the Northern District of California, he described a business arrangement proposal that came to disturb him.
Bush was dealing with a hostile takeover of an automated teller machine business in Mexico City, he wrote in a lawsuit naming Croft and Frost as defendants, and he was helping his brother to secure a loan to acquire a country club.
The Croft Enterprises associate, Bush said, discussed working with him on that loan and requested his brother's tax returns — adding that Croft Enterprises had experts in tax strategy who had saved friends and family tens of thousands of dollars.
"He outlined that the Croft team was extremely sharp in going back and finding tax positions that other people may have missed," Bush wrote of the associate, "and they had a proprietary strategy which was making millions of dollars for the company and its clients. I was intrigued."
A meeting was set up with Croft, who, according to Bush, estimated he could save his brother $25,000 by amending previous years' taxes.
According to Bush, Croft explained this required an upfront deposit of $1,500 and then a subsequent fee, plus a percentage of the adjusted returns on the back end after the IRS refund.
Bush saw revenue potential for himself. He thought he could put up the initial down payment for his network of clients, to whom he would explain "the new wiz tax strategy that this high-powered accounting group could achieve."
He agreed to an arrangement with Croft Enterprises but was soon scared off. He requested audit insurance, and found the agreement to be strikingly hollow — and upon looking further into the arrangement he almost entered, said he came to believe he'd narrowly avoided a fraudulent tax scam.
Bush represented himself in the case, and judges dismissed his lawsuits. Since Bush wasn't actually defrauded, one judge wrote, it was not clear what damages he could claim.
JUMP method
After the incident with the lien and the Maserati, Croft said he wondered to himself how many passionate business owners received bad tax advice or had an accountant who doesn't have the courage to stick up to the IRS.
He came up with a tax method, he said, which one day he said he was discussing with Frost in a West Palm Beach office. When Frost asked him how he could be so sure about the method, Croft recalled that he started talking about "rev-procs" — short for IRS revenue procedure.
"You go, 'Stop, give me the number of the rev proc,'" Croft recalled of Frost. "And I think that was also where we were really cementing our relationship because you're like, 'Hey, this guy Paul Croft, yeah, he might be a little wild at times, but he's also, like, he's backing up what he's saying with some facts and evidence of information here.'"
Croft said he gave Frost the revenue procedure numbers and Frost read through and was convinced the method was sound. According to Croft, Frost declared excitedly that in their Monday sales call, they wouldn't talk about loopholes or gray areas like other accounting firms do. Instead, he said, they would talk about IRS revenue procedures that are compliant and legal.
This JUMP method, as they called it, involved retroactive tax deductions.
(READ MORE: Tips on choosing a tax preparer)
"I'm going to show you how I've seen, I would say 80 to 90% of the clients that we come into contact with — either a W-2 employee that's making over $100,000 or they're a 1099 income earner that's earning over $100,000 — and how we've been able to put $25,000 back in their pocket within six weeks," Frost said on one 2020 YouTube channel appearance.
He explained the system of amending past tax returns, establishing facts and circumstances that allowed clients to take business expense deductions they had missed. The method rested, in part, on the idea that in the age of social media and personal branding and constant hustle and networking, business and regular life are inextricable.
"I wrote off this coat," Frost said cheerily on the show. "I wrote off this shirt — everything — because it's being seen, it's a part of what you're doing."
At a select volleyball tournament for his child, he recalled, he discussed business with a fellow parent, including how the parent could use the JUMP method to save money on taxes.
"Now, did I write off that volleyball trip?" Frost asked. "Hell yeah, I wrote off that volleyball trip. Everything related to select volleyball."
Up the mountain
On "The Rhino Zone," Frost said he often gets a question: "Why in the world did you go into business with Paul Croft?"
He said there are many answers to this question, but the one that speaks the most to him is another of their core values: Courage.
Croft then told a story that demonstrated the men's mutual admiration. One time, he remembered, they were driving in Frost's Maserati up Signal Mountain. The car was in sport mode — you could hear it accelerate, Croft said.
Then, Croft recalled, Frost asked him, "'Do you ever get concerned?' I'm like, 'What does that mean?' He's like, "You know, do you ever get stressed out?' I'm like, 'What? Of course!'"
Croft never never seemed to get rattled about money, Frost told him. Croft recalled saying this wasn't actually the case. He detailed his debts, which he said at that point needed to be serviced to the tune of $3,900 per day.
"It means I have to pay $3,900 today just to pay the debt that I borrowed on some financial situation," he said. "So in other words, J.D., I've got to make $4,000 today just to make a hundred bucks."
Frost cut in laughing, saying he remembered the drive.
Croft went on: "And J.D. looks at me, and I remember, here's what J.D. said to me after. He goes, 'You're an animal.' That's what you said."
They both laughed again.
"That's exactly right," Frost said.
Croft said he never saw this leveraging as frivolous. He said he just knew they were going to help a lot of people — and the business was going to be big.
"How big?" Croft asked. "Probably a billion dollars in sales one day."
Contact Andrew Schwartz at [email protected] or 423-757-6431.