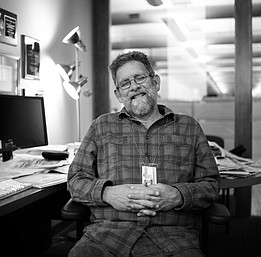 The son of a career army officer, Bennett led a nomadic life, attending ten different schools before graduating in 1980 from the University of North Alabama with degrees in Art and History.
After brief stints as a staff artist at the Pittsburgh Post-Gazette and the Fayetteville (NC) Times, he went on to serve as the editorial cartoonist for the St. Petersburg Times (1981-1994) and The Christian Science Monitor
(1997-2007), before joining the staff of the Chattanooga Times Free Press in late 2007. His work is syndicated internationally by The Washington Post Writers Group.
Recipient of The Pulitzer Prize for Editorial Cartooning in 2002, Bennett has earned almost every honor his profession has to offer, including the Sigma Delta Chi Award (2001), the National Journalism Award (2002), the John Fischetti Award (2001, 2005), the Robert F. Kennedy Journalism Award (2007), the Overseas Press Club Award (2005, 2007), and the National Headliner Award (1999, 2000, 2004).
Past President of the Association of American Editorial Cartoonists, Bennett is the husband of artist Cindy Procious and father of Matt, Ben and Sarah.
www.facebook.com/clay.bennett.cartoons